Hustle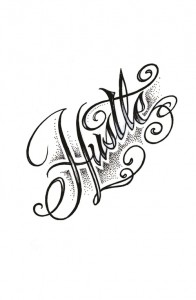 Hustle
by David Tomas Martinez
Sarabande Books, May 2014
84 pages / $14.95  Buy from Amazon or Sarabande Books
Hustle, David Tomas Martinez's debut book of poetry, is a cry from the street written with developed-over-time, intelligent style with pace the and moxie of a tom cat. The opening poem, placed even before the table of contents and dedication, "On Palomar Mountain" establishes a theme that will carry its way throughout this four part collection of poems as it begins, "The dark peoples things//for keys, coins, pencils / and pens our pockets grieve." Those three things their pockets lack are the book's foundation. Keys, coins, pencils and pens tell a story with nothing but "a lighter for a flashlight" that is begging to be told. It is the story of the bold but shed in a sensitive light as the poem ends with a "walk into the side of a Sunday night."
While fairytale readers and romantic poets might object to Hustle's style, those with their boots sunk deep in urban black-top pavement will resonated with the jazzy, up-beat rhythm of Martinez's lines. Lines chopped short and neat with stanzas generally organized into few line bunches compliment the underlying sentiments of the words as the narrator (presumably Martinez himself) declares ownership of what is to be presented in the opening poem of section one:
A car want to be stolen,
the night desires to be revved,
 
will leave the door unlocked,
a key in the wheel well
 
or designedly dropped from a visor.
 
A window will always wink
to be broken by bits of spark plug
or jimmied down the glass.
 
This is mine.
Where is the window to break
Iin your life?…
Literally inviting the reader to break into the life of the story, Martinez teaches the reader to hot-wire, jimmy-rig, and break an entry into the rest of the book. Clearly, the man in in possession of a story that needs to be told. Have no doubts about it, this is Martinez's own story. Collectively, the poems become a memoir, highlighting details of the poet's life which some might find shocking coming from a well-spoken, educated individual.
To tell his story, Martinez organizes the book into four sections. In sections one and two, he continues with the themes that have been established in the beginning of the book while incorporating the facets of growing up ruff which are often overlooked. The importance of a (dis)functional family life, for example, is first mentioned in part II of "Calaveras"
Yes, families are supposed to be circuses.
Accept is, and accept that the acrobat's taffy
of satin will twirl, and the bears in tutus will spin
over the exposes in the warped wood
and cracks in the waxy linoleum,
all the while your grandfather will yell
"You no like it, go in the canyon and eat tomatoes."