in this alone impulse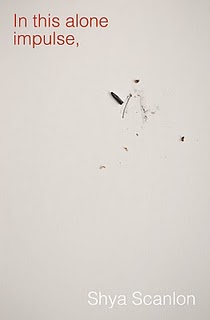 Released earlier this year from the magnificent Noemi Press, Shya Scanlon's full length print debut In This Alone Impulse, is truly of thing of many things. Using 7 line blocks of language to evoke a sublimely confounding string of styles, voices, jokes, murmurs, machines, Scanlon has truly forged from a seemingly simple set of building blocks a highly tuned and deceptively challenging machine of language and idea.
For a taste, check out Shya's YouTube feed, which features short videos of a wide range of folks reading sections from the book. Here's a rather rad one by A.D. Jameson, performing, 'Hansom':
Over the past few weeks Shya and I talked some about the construction of the book, its influence, becoming, tone, approach, as well as some of his other forthcoming works.
Blake Butler
—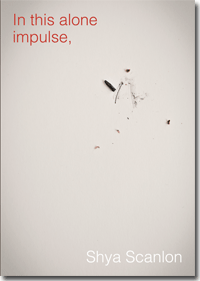 Shya Scanlon's much anticipated In This Alone Impulse is now available for preorder from Noemi Press. "If Gertrude Stein ran track for Mineola Prep, she'd text these alert, convival poems from the team bus." — Joyelle McSweeney