j r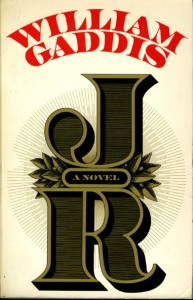 J R
William Gaddis
Alfred A. Knopf, 1975
726 pages / $15.16 buy from Dalkey Archive or Amazon

By July I'd completed my yearlong ramble through DeLillo's oeuvre. It was not one of the hottest summers I remember. I had a room in Crown Heights with a window that faced out to an alley, across which lived a Barbadian family, whom I was awoken by most mornings before biking the six miles, across Brooklyn, over the Manhattan Bridge, through Chinatown, to the parking lot behind the business school next to the library, where I rode the elevator to the tenth floor and worked for eight hours Monday to Friday. I had little idea or direction of what to do next.
I read Wittgenstein's Mistress in about two sittings, during which I came to vaguely understand the significance of the name William Gaddis. All I knew when I dropped down to the eighth floor one afternoon to pick up the massive copy of The Recognitions was that it included a character who wore a clock as a necklace. The image appeared throughout Markson's insane novel and recalled Flavor Flav, the refurbished and culturally derided figure of the preceding decade, which seemed enough for me.
It took me three attempts to get through the first ten pages. I'd decided with a friend that we would tackle it simultaneously, but he gave up a quarter way through the first chapter. He explained that he didn't have any interest in dedicating his respite to a man baptized by Jonathan Franzen as "Mr. Difficult." As a matter of contention or cultural superiority, or, more likely, personal superiority, I committed to reading the novel to completion and full understanding.
I did so, along the way reveling in what I referred to as the most conscious and hilarious diatribe on art ever penned. I was indoctrinated; by what I read, I found myself deeply shaken and moved.
A month passed. I signed a lease on an apartment with my girlfriend in a neighborhood that used to be a part of Flatbush but is now called Prospect-Lefferts Gardens and enrolled in my penultimate semester of college. I reread Hamlet and Heart of Darkness and The Waste Land. I read for the first time A Portrait of the Artist as a Young Man and Ulysses and "Ulysses" and "Prufrock" and Castle Rackrent. I had few conversations about Gaddis. I went out constantly for a few weeks and stopped. There was the hurricane and I walked across the Manhattan Bridge through a city without electricity to Madison Square Garden. I read Ben Gocker's absurdly funny Content publication The Pisces on a bus from Philadelphia on three hours of sleep. I felt tired of writing. The insanity of the world seemed more sane. I was bored, watched hours of television. I still do. I'm still bored. And I thought, I think about The Recognitions regularly as this masterpiece of social and artistic criticism, the most effort ever poured into something's message, which stands to say: It's not worth it.