Jasper Bernes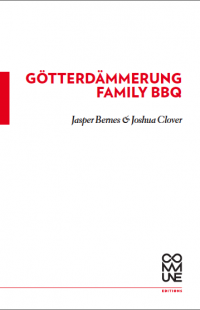 Götterdämmerung Family BBQ
by Jasper Bernes and Joshua Clover
Commune Editions, 2013
read, print
1. I met Jasper Bernes at a café in Oakland. He was binding Götterdämmerung Family BBQ with a long arm stapler. Commune Editions is a new publishing venture organized by Jasper Bernes, Joshua Clover, and Juliana Spahr.
2. Jasper invited me to the Poetry and/or Revolution conference-taking place at UC Berkeley, Davis, and Santa Cruz. I went to a discussion on manifestos where Joshua Clover delivered his Don't Put the Rabbit in the Hat. Later, at "The Public School" Joshua and Jasper read from Götterdämmerung Family BBQ.
3. If it's not clear you can read this online here along with works by Juliana Spahr, Diane Di Prima, and Louise Michel.
4. Poems. These are poems. Don't forget. They look like poems. They taste like poems. They're also full of frenetic pop culture references and blatant political antagonisms. They're fun, but they're trying to fuck shit up all the same.
5. The line that got the biggest cheer / laugh / reaction from the reading was "I wandered lonely as a drone / That floats o'er jails and landfill / And monitors what we say on the phone. // It knows an amazing amount / About One Direction / And sexting with frenemies of / the public good, who burn in the sun // of total transparency, / brains open to the screen / Memories of one Friedrich von / Ludwig von Mises on scene…"
6. There's a kind of opulence to lyric like that – a lyrical richness, a sickly sweetness from the rhyme, an excessive beauty. Some other writers, like Julian T. Brolaski, and Joyelle McSweeney, also capture a kind of perverted poeticism, a lavish absence, bastard cousin of luxury rap. "I'm early to the party but my 'rarri is the latest."
7. While "I wandered lonely as a drone" pleases, much of the rest of the chapbook is more of a call to arms and a more vigorous critique of political ambivalence. "Your vocabulary did this to me and millions like me, the vulnerability of words wanna be starting something else: rockets, rain, renegacy. Turn it upside down and set it on fire / is too a solution if you believe in emotional truth"
8. Responsibility, commiseration, complicity. This work sits firmly on the let's do something with our poetry side of the aisle, rather than the "everything is meaningless" or the "poetry can't do real shit" side of the weird looking aisle.
9. Jasper told me that Commune Editions would focus on work with an anarchist lean. Publishing a recounting of the trials of Louise Michel achieves that in more than one way.
10. "We once thought that there was more to life than breathing carbon emissions through the holes in our faces and we were right" READ MORE >
Comments Off

on 25 Points: Götterdämmerung Family BBQ
October 31st, 2013 / 12:31 pm