Joanne Kyger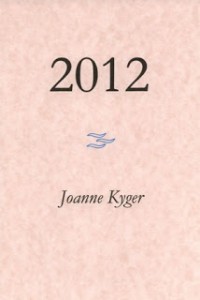 2012
by Joanne Kyger
Blue Press, 2013
$10.00 / Buy from Blue Press
Joanne Kyger periodically taught in the now defunct Poetics Program at New College of California, much as she still teaches now and then at Naropa. Over a decade ago I had the pleasure of being a student in one of those classes. We officially focused on "the serial poem" reading books by Jack Spicer, Ed Dorn, Alice Notley, and Ed Sanders, but more vitally the class was an uncompromising lesson in the wider practice of living—with poetry happening to be our focus—one among many of life's daily occurrences.
A serial poem in its own right, 2012 exemplifies how fluidly Kyger's writing practice is a sustained fact of her life. This journal-like suite of nine poems, presented in chronological order with dates of composition, is well representative of her ongoing engagement with the world via poetry over the last half-century. The writing is finely sculpted if often deceptive in giving off a carefree it's-all-no-big-deal vibe. Of course, the simultaneous action of these characteristics only contributes towards how totally great the poems actually are.
Reading Kyger's work is to take part in sharing her daily intimacy concerning wildlife, gossip, books read, current events, past memories, friendships, and more, all balanced by her keen awareness of detail. Observation is her abiding practice and discipline. Who's that and what's it doing?
Some animals don't want to move.
The deer here spend all their lives
in a two mile radius.
The back yard is
ankle deep in pellet poo
They are practically domesticated
The fearless male quail hops right over
the red shafted flicker
pecking the new grass.
("The Epic of World Mythology" Dec 26, 2012)