Joel Brouwer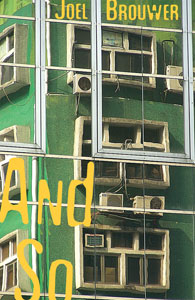 And So
by Joel Brouwer
Four Way Books, 2009
88 pages / $15.95 buy from Four Way Books
1. And So was published in 2009, and so I'm reviewing it now, in 2012.
2. There's always a time lapse in reading; and so we are all the silhouettes of each other's ideas of fireflies.
3. Except: we aren't all silhouettes of each other's ideas of fireflies. Sometimes we cease to be apart and begin to be together in a way that is (and is not) like a dump cake. It is as Brouwer writes in "In a Motel Halfway to Omaha": "At dawn she said she had to go to work and he / said not until I do it to you again slut / and she said ok whatever bad man and so" we go on with our dump cake selves.
4. People exist; people have sex. There are people in And So and so they have sex. A lot.
5. If And So were an album, it would be less Marvin Gaye's Let's Get It On and more Fiona Apple's The Idler Wheel is Wiser Than the Driver of the Screw and Whipping Cords Will Serve You More Than Ropes Will Ever Do. And So is not a long title, and so it's easier to say—which is more important than many things (like shallots).
6. And So is intimately concerned with its use of language, and so am I.
7. The cover art of And So is, to my mind, a series of frames, a series of ways of looking at things (read: people, relationships, the Mona Lisa). I am bothered by our inability to escape from frames, and so the cover art disturbs me.
8. As I break these thoughts to twenty-five pieces—as I frame them—I am wary of: the need for this review; the time that has elapsed between the publishing of this book and the writing of this review; the need for this form for this review; my place in this review; the book's place in this review; if this review is actually even a review, or if it is a personal essay, co-opting this strange and lovely book of Brouwer's for its (my) own purpose. I am wary, and so I do what I always do when I am wary: I tell you.
9. But if this were a personal essay, wouldn't I tell you about my mother, her schizophrenia? I'm not telling you, and so it can't be a personal essay.
10. But now I've told you, and so it must be. Perhaps it always is/was. READ MORE >