Keith Lee Morris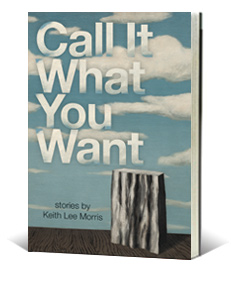 Call it What You Want: Stories by Keith Lee Morris. Tin House Books. pp. 264, $14.95 list ($10.76 at the above-linked B&N.com).
Reviewed by Jennifer Bassett.
.
My first "real" writing class was in high school and taught by a young man who had just graduated from an MFA program. He was excited and passionate and on the first day of class he read us Denis Johnson's "Car Crash While Hitchhiking" from Jesus' Son. We were all riveted. First of all, the story involved drugs (!) and secondly the writing was so sharp, it practically slit our wrists. For me, personally, that moment was particularly pivotal. Jesus' Son and Johnson's particular brand of writing—tough, honest, gritty, male, but with an undercurrent of boyish vulnerability—came to represent a standard by which I judged everything else.