leesa cross-smith
I was raised on Clinique and wet n wild, Chanel No. 5 and Love's Baby Soft. I love super-fancy makeup and the cheap stuff. I got fussed at in high school theatre class because I didn't put on enough makeup. That oil-based stuff made me feel like I was suffocating.
I don't wear a lot of makeup, but I do love lipstick/lip gloss and eyeliner. I rarely leave the house without those. If it's early, I'll only line my top lid. If it's later, I'll line the bottom lid, too. A smokey-eye for nighttime. Winged eyeliner is a part of my personality. I'll also wear a little under-eye concealer and powder. If I don't feel like doing anything much at all, I'll wear extra red lipstick and put my sunglasses on.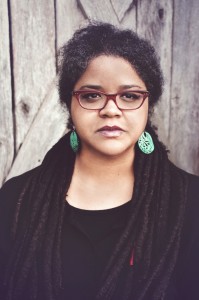 Revlon ColorStay Ultimate Suede is my favorite cheap lipstick of the moment, and I always have Clinique Black Honey Almost Lipstick with me. It looks good on everyone! I also love Benefit's Sugarbomb. I have about 25 lip glosses in my purse because if I see one I even think I might like, I get it. I once read that your lips can get "addicted" to lip gloss, so that's obviously where I am. I stash them all over the house: on the kitchen sink, on the living room table, next to the toothpaste, next to the bed. I'm the same with bobby pins. My earrings, too. I can go from room to room and reach my hand out and find a pair of earrings, a bobby pin, and a lip gloss.