Wednesday, October 24th, 2012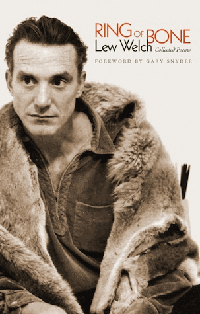 Ring of Bone: Collected Poems
by Lew Welch
City Lights Publishers, 2012
252 pages / $17.95 buy from City Lights
1. I've been reading Lew Welch for some 20 odd years. First I read Edgar Allen Poe, Allen Ginsberg, Walt Whitman, Hawthorne, Thoreau et al and then I found out about Kenneth Rexroth, Gary Snyder, and Lew Welch. (I heard of Philip Whalen too but he took a while longer for me to dig)
2. Welch met Whalen and Snyder when all were students together @ Reed College in Portland, OR on lawns where I once threw a Frisbee (was it?) several years ago with my pal Jeffrey Butler and his son Austin. And then a couple years later went back to see the JESS show. Lately I've been avoiding phone calls. I only talk to my mom. I owe Jeffrey Butler up in PDX a good long chat one of these days.
3. When I read Lew Welch I often think about Robinson Jeffers (and vice versa)
"I'm the ghost Roan Stallion" – Lew Welch
4. Both Leos, we're born August 16th
LEO MENAGERIE
Sunnylyn Thibodeaux, Lew Welch, and me.
5. "You know Lew always CRIES when he reads and it will ruin the evening."
–Joanne Kyger. http://jacketmagazine.com/27/w-kyge.html
6. David Highsmith gave me a broadside, "Raid Kills Bugs Dead" for my birthday one year. It's up in our bathroom. This tag-line, ad copy throwaway, now emblazoned in millions of modern day minds, is attributed to Welch from his 9-5 Chicago workadays.
7. Huey Lewis of Huey Lewis and the News is Welch's step-son. He sang Welch's "Graffiti" with his mother in the audience @ SF Public Library. Dig it: http://youtu.be/N5diFN_Gpx4
8. Welch walked off with his gun never to be seen again.
9. Tall and lanky with a bursting head of red describes Lew Welch as if he was a good looking woman.
10. Before any poet bothers to write a poem concerning problems of rat infestation they should be familiar with Welch's "Buddhist Bard Turns Rat Slayer" especially if they consider themselves to be Buddhist and are a "professor" in the Bay Area. (more…)