Life Cycle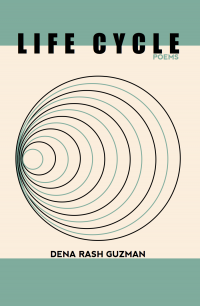 Life Cycle
by Dena Rash Guzman
Dog On A Chain Press, 2013
69 pages / $10.00 buy from Powell's
1. Dena Rash Guzman climbs trees and sports cowboy boots and straw hats.
2. Many men drown at sea.
3. All the poems are titled Life Cycle to avoid/create/engender confusion.
4. Handless children populate the poppy pods.
5. DRG has been to China and beyond in search of the muse.
6. Farm weddings do not feature high on her list of favorite events.
7. Bones sleep, are tossed, and itch in these poems.
8. I spent one hot summer in Portland once, some years ago, and did not bump into the poet.
9. I have written several poems lately dealing with loss and aging, and "This is how we forget our ancestors:" shakes the dust off my own family skeletons.
10. DRG reads her poetry live more than most writers I've come across, and I'm not sure this is due to her brilliant reading, or Portland, OR, having more readings per square mile than Brooklyn, NY. READ MORE >
Comments Off

on 25 Points: Life Cycle
October 8th, 2013 / 2:47 pm