Mesha Maren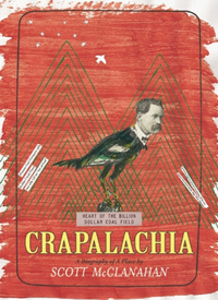 Crapalachia: A Biography of a Place
by Scott McClanahan
Two Dollar Radio, March 2013
192 pages / $16  Buy from Amazon or Two Dollar Radio
To me Rainelle, West Virginia is synonymous with snow days. When I was growing up on Muddy Creek Mountain outside Alderson, listening to early morning school cancelations on 99.5 The Big Dawg In Country, it seemed like the kids in Rainelle always got the day off.  Rainelle was in the same county as the town I went to school in but it lay just far north enough to ensure that it got an icing thick layer of snow on days when we got only dustings. As I walked to meet the school bus I thought about all those lucky-son-of-a-bitch kids in Rainelle at home in their pajamas watching T.V.
Rainelle is the hometown of Scott McClanahan and though I have never met him, part of the magic that McClanahan weaves into all of his writing is his ability to make you feel that you have known him all your life.
Rainelle is the setting for most of McClanahan's stories, that and Danese, an even smaller community which serves as the main setting for his newest book Crapalachia: A Biography of a Place. Rainelle and Danese, the names, like those of two mythical twins, ring with memories and meanings just out of reach. Names are important to McClanahan, the names of his Grandma Ruby's 13 children (each and every name ended in Y), the names of the 11 siblings of McClanahan's grandfather (5 of whom killed themselves), the names of the faraway places the family moved off to, the names of the people etched onto McClanahan's own heart.
It is McClanahan's heart that speaks most loudly in Crapalachia. Though his prose often leans on the side of overly simple and abruptly declarative, the beauty in the writing comes from the fact that McClanahan seems to be dictating his very pulse. And in the midst of reading it you begin to realize that his pulse is matched by your own, that the room is filled with beating hearts, his, yours, and those of all of your mingled memories and "a million crazy babies." Most importantly, McClanahan seems to be saying, he is alive and so are you and despite all odds so is this ageless place he calls Crapalachia. It is the defiance in the writing that is breathtaking, the very aliveness of this voice in the face of all those dead: the thousands and thousands of dead miners, the dead of the Hawk's Nest Tunnel, the dead of the Sago Mine Disaster, the dead of the Buffalo Creek Flood, the dead of hunger, the dead of a death by their own hands.