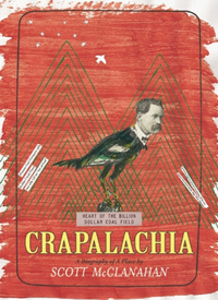 Crapalachia: A Biography of a Place
by Scott McClanahan
Two Dollar Radio, March 2013
192 pages / $16  Buy from Amazon or Two Dollar Radio
To me Rainelle, West Virginia is synonymous with snow days. When I was growing up on Muddy Creek Mountain outside Alderson, listening to early morning school cancelations on 99.5 The Big Dawg In Country, it seemed like the kids in Rainelle always got the day off.  Rainelle was in the same county as the town I went to school in but it lay just far north enough to ensure that it got an icing thick layer of snow on days when we got only dustings. As I walked to meet the school bus I thought about all those lucky-son-of-a-bitch kids in Rainelle at home in their pajamas watching T.V.
Rainelle is the hometown of Scott McClanahan and though I have never met him, part of the magic that McClanahan weaves into all of his writing is his ability to make you feel that you have known him all your life.
Rainelle is the setting for most of McClanahan's stories, that and Danese, an even smaller community which serves as the main setting for his newest book Crapalachia: A Biography of a Place. Rainelle and Danese, the names, like those of two mythical twins, ring with memories and meanings just out of reach. Names are important to McClanahan, the names of his Grandma Ruby's 13 children (each and every name ended in Y), the names of the 11 siblings of McClanahan's grandfather (5 of whom killed themselves), the names of the faraway places the family moved off to, the names of the people etched onto McClanahan's own heart.
It is McClanahan's heart that speaks most loudly in Crapalachia. Though his prose often leans on the side of overly simple and abruptly declarative, the beauty in the writing comes from the fact that McClanahan seems to be dictating his very pulse. And in the midst of reading it you begin to realize that his pulse is matched by your own, that the room is filled with beating hearts, his, yours, and those of all of your mingled memories and "a million crazy babies." Most importantly, McClanahan seems to be saying, he is alive and so are you and despite all odds so is this ageless place he calls Crapalachia. It is the defiance in the writing that is breathtaking, the very aliveness of this voice in the face of all those dead: the thousands and thousands of dead miners, the dead of the Hawk's Nest Tunnel, the dead of the Sago Mine Disaster, the dead of the Buffalo Creek Flood, the dead of hunger, the dead of a death by their own hands.
The process of keeping things alive is imperative to McClanahan and it gives his book a brilliant urgency. This process of bringing life or saving life shines through the text in strangely beautiful ways, through his grandmother's obsession with photographs of dead relatives, through McClanahan's lists and his own oddly cathartic effort to carry handfuls of Appalachian dirt around with him, to make the world his mountain. "More mountaintops please. More mountaintops," McClanahan writes:
This is a lie I was told as a child, but its still true. The New River is one of the only two rivers that flows directly north. The other one is a river called the Nile. Those rivers are inside of me. I have a river inside my heart. You have a river inside your heart. There are diamonds inside of both of us. We are all flowing north.— pg. 70 Crapalachia
Inherent in this effort towards keeping things alive is the unspoken knowledge that no matter what we do the past is out of reach and McClanahan's Crapalachia is a place so fully positioned in the past that he seems to miss it even while living in its midst. I may be biased being a West Virginian myself but I believe McClanahan will make you miss his mountains even if you have never seen them before.
McClanahan calls his book a "biography of a place," and what he is so successful at is this sort of portrait painting in words. He renders on the page a deeply personal landscape through stories which, McClanahan himself admits, maybe not always be true but which are undeniably real. Through his incorporation of the words of Robert Penn Warren and Lucretius, McClanahan involves Crapalachia in the ongoing artistic and intellectual effort to reawaken sleeping history and quicken dead heartbeats. Though McClanahan may claim to have been more impacted by his stuffed crust Pizza Hut dinner than by any famous writer, he does not write in a void. His voice is not alone. It echoes and intermingles with other mythmakers who seek to examine their own tiny, dirty corners of childhood and place, writers like Dorothy Allison, Carolyn Chute and Tupelo Hassman.
McClanahan's dazzling honesty grabs you and pulls you in quick for a kiss. And as if the honesty of the book itself is not enough, the honesty of the Appendix and Notes is sharper still. In it McClanahan turns his creation inside out, showing you the stitching inside each pocket. He explicates and analyzes it in the most tender manner. "I am going to start this appendix with an observation…" McClanahan writes:
How do you know England is an island? Have you ever walked around its borders? How do you know this appendix is true? Is it because I told you so? […] I just realized I never look at a painting and ask, "Is this painting fictional or non-fictional?" It's just a painting. […] I never poured beer down Nathan's feeding tube. There was less freedom for Nathan than what is in this book. I let him drink the beer in this book because I wanted to give him a chance to be free for a moment. I wanted to give him a chance to enjoy something. This is the truth of my Nathan.—pg. 159 Crapalachia
It is the honesty of these notes that cinched the whole deal for me, made the book into a friend who I wished would stick around just a little while longer.
***
Mesha Maren is a fiction writer from southern West Virginia. Her work has been anthologized in Forty Stories: New Writing from Harper Perennial and published in journals such as HOBART, The Barcelona Review, Night Train, and Atticus Review.
Tags: Crapalachia, Mesha Maren, Scott McClanahan, Two Dollar Radio