muu muu house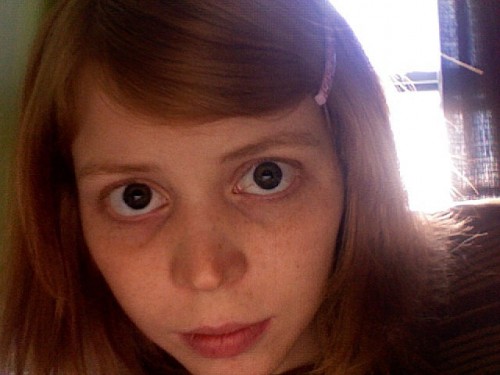 Ellen Kennedy is a girl, and her book of poems, Sometimes My Heart Pushes My Ribs, was published by Muu Muu House — an elegant appellation for a press that, according to me, refers to Miuccia Prada's saccharine fashion label Miu Miu, helpless cows murdered by tasteless American whities, and kitties.
I'm not quite sure how to pronounce the title of the three-part story poem, Eoody Mobby, in Ellen's collection, but that doesn't bother me all that much. I like the way it looks. The two "o's" in Eoody almost mirror the two "b's" in Mobby, and symmetry and identical-ness are really enchanting, as they suggest all types of things, including systems, which can be severe, as the one implemented by the boys who ruled Germany 1933-45 obviously was. E, too, is a fine letter to start a word. With those three prongs sticking out from it, "E" is a strong and pointed letter. Also an admirable letter to begin a word is "M" — you can't spell "murder" or "McDonald's" (which concocts yummy ice cream) without it.
The stars of Ellen's narrative prose poem are Woody Allen and Ned Vizzini. Since these Woody and Ned are boyfriend and boyfriend in the poem, they most likely can't be the commonly known Woody and Ned, since the commonly known Woody doesn't like boys, as nearly all of his movies showcase and adore very pretty girls, like Mariel Hemingway and Mia Farrow. As for Ned — an author of YA books, (one of which touches on the loony bin), he may very well like boys, but probably not.
So… why did Ellen choose to use the names of Woody Allen and Ned Vizzini? Perhaps it's because she was taken with the way the names sounded or the way the names were spelled or the way the names looked when written. For instance, I'm quite intrigued with the way the name "Reinhard Heydrich" looks and sounds, and I may very well one day make it the name of a boy who likes kitties and McDonald's ice cream, but all of that doesn't necessarily mean that I'm referring to the Reinhard Heydrich famous for coming up with the idea that, years later, would lead to numerous memoirs and Hollywood films.
(PS… Adolf nicknamed Reinhard "the man with the iron heart"… umph…)
In the poem, Woody and Ned, being boyfriend and boyfriend, spend a lot of time together. Their activities include licking each other's teeth (though, really, Ned just does this to Woody), showering (an atrocious activity), sipping soy milk ice coffee, and eating toasted sea vegetables. I myself have not tried this edible, but I want to, since it seems like something everyone who lives under the sea in The Little Mermaid would like.
Overall, Woody appears to be much more sadder, discontent, and macabre than Ned. According to Ellen, Woody "often daydreams about being buried alive and being exposed to other dangerous and tragic situations." He also steals Nicorette patches (though he doesn't smoke), and subjects himself to one of the most vulgar environments of modern culture — the gym.
Obviously, Woody's weary and restless doings are justifiable. I mean, Mark Zuckerberg, Mayor Bloomberg, the gay and lesbian community…  the average-ness is just awful! Woody's sullen sentiments saturate "Eoody Mobby," which, says me, makes it a continually curious and commendable poem.