newpages

It's that time again, kids. New literary magazine reviews are filleting eyelids at NewPages. You'll find reviews of many fine lit mags. I am glad to see that the online venues are reviewed with the print mags, instead of at the bottom of the page. Also, leading off this batch is a review of Abyss & Apex, an online quarterly focusing on speculative fiction and poetry. (Is there such a thing as speculative non-fiction? Would that be science? Philosophy? I'd like to see some slipstream personal essays and such.) Anyway, these magazines are reviewed:
Abyss & Apex :: Arsenic Lobster :: The Colorado Review :: Cutbank :: The Deronda Review :: Dirty Goat :: Fulcrum :: Hanging Loose :: Juked :: The Louisville Review :: Monkey Bicycle :: Ninth Letter :: Paterson Literary Review :: Upstreet
And don't forget the latest book reviews, too, if you haven't gotten to them since Blake mentioned those. Good stuff all over the place.
One of my aims with this post was the shameless overuse of the word "review".
Is it technically Mean Week today? This is a pretty nice post.
Well, that's too bad. Fuck off.
Uncategorized /
15 Comments
October 12th, 2008 / 5:12 pm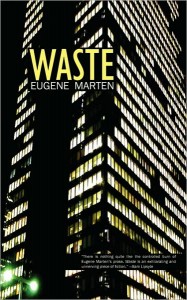 This month's crop of new book review are live at NewPages. NewPages does a pretty slammin' ass job of bringing a boatload of good indie press reviews every month, once again headed up by the ever present Matt Bell.
Salvation :: The End of the Straight and Narrow :: Based on a True Story :: The Lost Episodes of Beatie Scareli :: The Waitress Was New :: The Cosmopolitan :: Signs of Life :: Of Kids & Parents :: Waste :: Keep This Forever :: Mind Games
Among these reviews, Mr. Bell himself pens a review of one of my favorite new discoveries of the year as far as writers I needed to find, Eugene Marten, whose WASTE, new from Ellipsis Press, ate my head alive, not even shitting. That book is incredible, and Matt does it justice. You should seriously go buy the book right now, it's about a fucked up janitor, case closed.
Uncategorized /
Comments Off

on NewPages Book Reviews & Waste
October 1st, 2008 / 11:50 pm