preteen gallery
"[Our community is] one that constantly sabotages itself: the anticommunity of networked souls." —John Kelsey, Next Level Spleen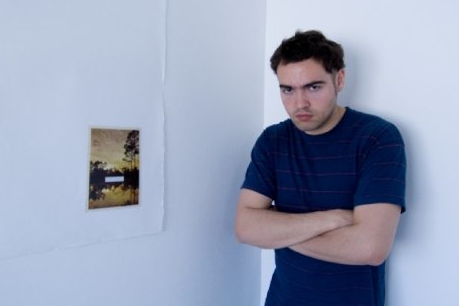 There is no sentiment more omnipresent in the art world than that of dissatisfied skepticism. Today more than ever individuals exposed to the arts derive conclusions about the value of the work based on the context or network in which the art is presented.
The link provided on Preteen's Twitter page describes Preteen Gallery as "a small contemporary art space in Mexico City." In true "networked soul" fashion, I emailed Preteen, stating: "I would like to interview you: either 'you,' the actual person behind the feed, or 'you' as an online performer/entity."
Gerardo Contreras, founder and director of Preteen, grew up in Ciudad Obregón and moved to Hermosillo to study architecture in his twenties. He founded Preteen in 2008 by transforming an unoccupied apartment space in Hermosillo he had under his possession. The name stems from its founder's early memories of watching online pornography, in a time when there were no real restrictions on Internet content. In regards to his curatorial ideology, he cites Javier Peres' Peres Projects and Maurizio Cattelan's The Wrong Gallery as influences.
The workload Contreras has undertaken is certainly prohibitive of the severe drug habits his tweets imply. In a single month his schedule included opening Jaime Martinez's Shyness is Nice Don't Ask Me, curating I'm Too High to Deal with this Shit Right Now in Madrid, So Confused LOL in Belgrade and Derrida.pdf in Vienna.
Contreras convincingly performs the role of the curator as a force of nature—a nature that implies it allows the real-life connection that Kelsey fears will become extinct in our era of "hyperrelational decadence," but a nature that also illustrates the unpredictability and fickleness that Kelsey expected.
It might appear that there are no limitations of political correctness in a conversation with Contreras, but that is certainly not the case. An endeavor to delve deeper into his process was cut short due to Contreras's interpretation of pointed questions as indicative of my "Christian-American condescending gaze," as he framed it, blatantly ignoring the fact that I am neither. Despite the honesty that characterizes his descriptions of his past drug experiences,   hypothetical questions (ie. "Do you ever wish drugs weren't important to you?") offend him irrevocably.
Contreras employed a hyperconscious approach to respond to a request for further clarifications, resulting in his complete misinterpretation of the intended tone. In turn, he responded with a redundantly aggressive email that set the tone for our remaining interactions. Since I truly intended to learn as much as I could about his perspective and influences, I instantly apologized. My apology was genuine, and I once again reiterated my intention to construct his portrayal in utmost honesty. In theory, Contreras accepted this apology. In practice, the visceral responses he provided as clarifications indicated otherwise. The curator's more-recent responses altered my stance towards the degree of the performative aspect of the Preteen Gallery tweets: both online entities thrive on belittling and disparaging others to accentuate their 'superiority.' READ MORE >