Queen Mob's Tea House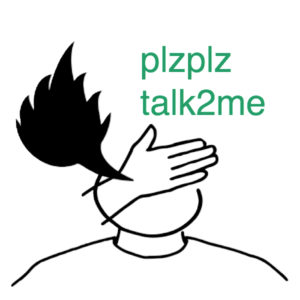 Oh, hello there. Welcome back to plzplztalk2me, a semi-regular feature in which I talk to folks who want to talk to me about stuff they want to talk about.
Recently, I corresponded with Andrea Lambert. Lambert wrote Jet Set Desolate (Future Fiction London: 2009), Lorazepam & the Valley of Skin: Extrapolations on Los Angeles (valeveil: 2009) and the chapbook G(u)ilt (Lost Angelene, 2011). Her writing appears in 3:AM Magazine, Fanzine, Entropy, Angel's Flight Literary West, HTMLGiant, Queer Mental Health and elsewhere. Her work is anthologized in Haunting Muses, Writing the Walls Down: A Convergence of LGBTQ Voices, The L.A. Telephone Book Vol. 1, 2011-2012, Off the Rocks Volume #16: An Anthology of GLBT Writing and elsewhere. Lambert paints in figurative mixed media oils critically referenced as "kitchy maximalism." Her artwork features in Angel's Flight Literary West, Entropy, Hinchas de Poesias, Queer Mental Health and Anodyne Magazine. CalArts MFA. Website: andreaklambert.com. Twitter: @AndreaLamber.