Rednuhtetum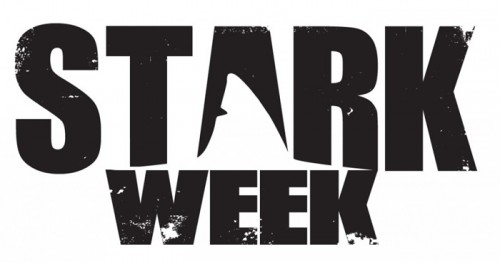 For Episode Lucky Seven of STARVING WEEK IT'S STARK STARVED OUT THERE WEAKLINGS, we feature poet mover and shaker Elisa Gabbert on The Waters, book three of The First Four Books of Sampson Starkweather. Read on as EG takes a delightful comb to Starkweather's transcontemporatory faithfulness.
If you don't speak Spanish, here's what you need to know about Cesar Vallejo's Trilce: Clayton Eshleman does the best translations, and Sampson Starkweather does the best transcomtemporations. That's what he calls them in "The Waters," Book III of The First 4 Books of Sampson Starkweather – English-to-English translations that update the vocab and bric-a-brac of Vallejo's originals for the life of an American man straddling the 20th and 21st centuries. In other words, "A transcontemporation is to a poem what RoboCop is to a normal police officer."
You don't have to read "The Waters" side by side with Trilce to enjoy it, but doing so makes Starkweather's tricky, allusive, funny-sad poems extra-magical. Let's take a look at "XIII" from Trilce, first in Vallejo's original Spanish:
XIII
Pienso en tu sexo.
Simplificado el Corazon, pienso en tu sexo,
ante el hijar maduro del dia.
Palpo el boton de dicha, esta en sazon.
Y muere un sentimiento antiguo
degenerado en seso.
Pienso en tu sexo, surco mas prolific
y armonioso que el vientre de la Sombra,
aunque la Muerte concibe y pare
de Dios mismo.
Oh Conciencia,
pienso, si, en el broto libre
que goza donde quierre, donde puede.
Oh, escandalo de miel de los crepusculos.
Oh estruendo mudo.
Odumodneurtse!
Now here's Eshleman's translation:
XIII
 I think about your sex.
My heart simplified, I think about your sex,
before the ripe daughterloin of day.
I touch the bud of joy, it is in season.
And an ancient sentiment dies
degenerated into brains.
I think about your sex, furrow more prolific
and harmonious than the belly of the Shadow,
though Death conceives and bears
from God himself.
Oh Conscience,
I am thinking, yes, about the free beast
who takes pleasure where he wants, where he can.
Oh, scandal of the honey of twilights.
Oh mute thunder.
Rednuhtetum!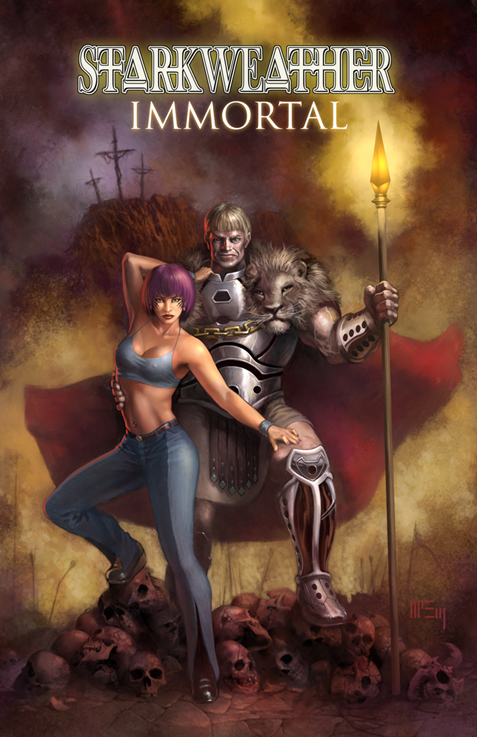 Every translation makes choices, but you can probably see, if you know even a little Spanish, that this is a faithful translation. The final line is the weirdest part of the poem—at first it looks like a nonsense word, then you realize "Odumodneurtse" contains the last two words of the penultimate line, backwards and jammed together to form a new word. Unfortunately, something is lost in Eshleman's translation—his own nonsense word, "Rednuhtetum," is "mute thunder" backwards, so the move comes across on a literal level. But in Spanish, the final "o" at the end of "mudo," for "mute," echoes the vocative/exclamatory "Oh" at the beginning of the previous two lines. Eshleman's translated nonsense doesn't have quite the same effect.
Starkweather's version isn't so faithful, especially when it comes to the last line:
XIII
I think of your sex.
With dumbed-down heart I think of your sex
as ants hijack the day's blonde daughter.
Even the Pope gets the hiccups.
The cardinal fluttering against the glass:
phoenix, arrested.
I think of your sex, wave which knocks
out the breath, holds a body under, no way to say
which way is up. Death keeps feeding coins
into the meter of your mouth.
O, Consequence,
I am thinking too, about you, free animal
who takes pleasure where she wants, because she can.
O, honey of daughterless dusk.
O, hoarse voice of lightning.
Rudderowstarkweathersampson!
You'll notice that the "transcontemporation" is derived from both the sound of the original lines as well as the meaning, so line three ("ante el hijar maduro del dia") is a combination of straight translation ("before the ripe daughterloin of day") and soundplay: ante becomes ants and  hijar becomes hijack, but the day's daughter comes from the "underpoem," such as that exists, not the surface sounds. And yet, also, some of the poem is entirely new—"phoenix, arrested" seems to come from nowhere, or rather from Sampson's degenerate brain entirely.
The last line is where you really see the exuberant beauty of Starkweather's riffs. "Rudderowstarkweathersampson" isn't anything spelled backwards – it's his name rearranged. Rudderow (the poet's middle name) seems to have been triggered by alliterative association with "Rednuhtetum," Eshleman's rendition of "mute thunder." Though the literal meaning of "Odumodneurtse," such as there is one, is lost in the Starkweather version, it retains that feeling of reveling in the evocative power of nonsense, of personalized Jabberwocky. (Later, in LXV, we learn that Rudderow is "a nonsense word made up by [his] mom.") And – the really lovely part – Rudderow contains a syllabic "O."
Then, of course, there are the metaphors both more subtle (I love "wave which knocks / out the breath, holds a body under, no way to say / which way is up" – though a wave of love is less strange than a prolific furrow) and more absurd ("Death keeps feeding coins / into the meter of your mouth") than the original. Every poem in "The Waters" is like this, not a puzzle to figure out, but a little game full of meanings, as many as you want: "at the edge / of beauty, it quivers, it sings, it holds / no water."
Elisa Gabbert is the author of The Self Unstable (forthcoming from Black Ocean in Fall 2013) and The French Exit (Birds LLC, 2010). Her poetry, prose, and collaborations have appeared widely in publications such as Boston Review, Colorado Review, Conduit, Denver Quarterly, Pleaides, and elsewhere. She is a founding member of the Denver Poets' Theatre and blogs at http://thefrenchexit.blogspot.com/.