Sara Marcus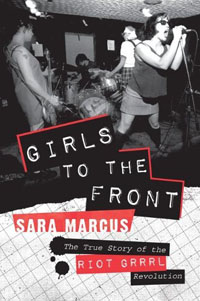 Where Art Belongs
by Chris Kraus
Semiotexte, 2011
160 Pages / $13  Buy from MIT Press
&
Girls to the Front
by Sara Marcus
Harper Perennial, 2010
384 Pages / $15  Buy from Amazon
If you're invested in the lives and work of girls as cultural agents, then you'll like Sara Marcus' Girls to the Front: The True Story of the Riot Grrrl Revolution and Chris Kraus' Where Art Belongs. Like certain of my punk obsessed friends, my interest in bands like Bikini Kill and Bratmobile developed in high school during the late 90s. And by then the whole riot grrrl phenomenon in its original incarnation, with Kathleen Hanna front and center at the mic, was more or less dead. By the time I was introduced to Bikini Kill's first album, the band had already released its final album Reject All American and played its final show in April 1997. Subsequent fans were left to speculate on both the political origins of the band and the interpersonal relationships that constituted riot grrrl as a living, breathing feminism.
GIRLS TO THE FRONT: The True Story of the Riot Grrrl Revolution, by Sara Marcus
Harper Perennial; September 28, 2010
384 pages; $14.99 list; $10.79 at Barnes & Noble.com, $10.11 at Amazon
.
[NOTE: A vigorous subjectivity is hereby asserted]
.
I was thirteen in 1994, born a few years too late and too many hundreds of miles away from DC or Olympia to catch the first wave of Riot Grrrl, before the media declared Courtney Love its leader and made short skirts, ripped fishnets and combat boots another uniform to choose from, on the rack next to grunge and goth and punk. The punk rock girls in Miami sort of had the right idea. We wrote zines and covered our hands (and arms and shoes) in magic marker, wore too much black eyeliner and publicly made out with one another, smoke and drank and bragged about the good drugs we could find, and applied duck tape to the rips in our backpacks and notebook covers and black jeans. But we were copying the look from MTV, not inventing it ourselves, and we were more interested in intoxicants than radical feminist politics. We mixed up Riot Grrrl with trampy adolescent showboating, equated it with bands like Hole and L7 and the Lunachicks, plus local favorites Jack Off Jill (more Manson-fanclub than feminist, but at least female), and generally, in the way of all younger siblings aping their older sisters' trends, didn't exactly get it right.
Luckily Sara Marcus is here to set the record straight.