SFSU creative writing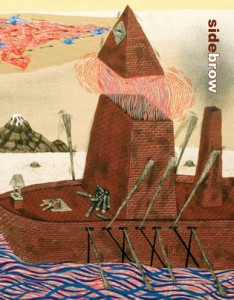 Sidebrow's inaugural print anthology is available now, including such notables as: Kim Chinquee, Brain Evenson, Norman Lock, and Derek White.
Sidebrow is 'lightly affiliated' with Fourteen Hills, which is San Francisco State University's journal from their creative writing program.
It's funny because they disappeared for a couple of years (in that 'hiatus' turns into 'defunct' lit journal kinda way) and I was really surprised that they were going through and actually making a print run. Their website is odd–they do this interactive and project-based thing which I don't really understand.
Not trying to be modest, but my story in it was written some years ago and not very strong, but hey, I gave a secret-handshake which involved surgical gloves and the editor's prostrate.
Uncategorized /
9 Comments
November 7th, 2008 / 3:23 pm