Shadow Man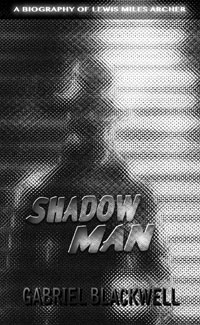 Shadow Man: A Biography of Lewis Miles Archer
Edited by Gabriel Blackwell
Civil Coping Mechanisms, October 2012
286 pages / $13.95  Buy from Civil Coping Mechanisms or Amazon
Is there a form called smart noir? There should be. In Shadow Man: A Biography of Lewis Miles Archer, published by Civil Coping Mechanisms, Gabriel Blackwell both conducts and writes the story. As the meta-writer and the meta-detective, he's inside what happens, and outside, all at the same time. Blackwell claims, rather coyly, to be the "editor" of Shadow Man: A Biography of Lewis Miles Archer, and he is listed as such on the cover. But like a savvy gumshoe, Blackwell is too humble—and too sneaky—to list his skills upfront. His project is to blur lines between fiction and nonfiction; genre and form; noir and innovation.
We should consider ourselves forewarned meta-readers because Blackwell, as editor of this book, as author and researcher, is the ultimate shadow man. Blackwell disappears into the story and lets us know that he will be seen—and not seen:
It's easy enough to be seen when you want to be. Easy enough, too, to not be seen, if that's what you're after. But to be both at the same time? It's like someone telling you to act natural, or not think of a pink elephant.
We read to name that "pink elephant" in the room and, in the manner of noir, to find that missing femme fatale in the bar. The reader's suspicious impulse might be to sit with the book and with Google, to search what is fiction, nonfiction, or imagination. We are inside the story as it unravels and outside the story as it is revealed. The story becomes confounding, like "a maze":
A maze, maybe. The trick to a maze is, you keep your hand on the outside wall and you can't go wrong. But that only works if you know which wall is the outside wall. And if you start the minute you step in.
I soon gave up the inter-textual Google approach to reading Blackwell and let myself be drawn into the cheeky editor's devilish and impish fun. Those who are unseen and unknown are often the characters of literature that might reveal the most, were we to bother to ask. Blackwell bothers. He uses this knowledge, his questions, to great effect, illuminating a man who existed and didn't exist, someone who disappeared with nary a backward glance.