Susana Medina
I met Susana Medina at the inaugural reading of Book Works' Semina series in June 2008. Her struggle with deafness and affection for Borges made her immediately endearing. Between shots of whisky and glasses of Haut-Medoc, we talked. Chitchat mainly about films and books, but somehow the talk became serious and autobiographical.
Born of a Spanish father and a German mother of Czech origin, she grew up in Valencia, Spain. Her short film Bunuel's Philosophical Toys, deconstructs the instances of fetishism in the films of Luis Bunuel. Over the years I've come to believe that the gap between what Medina has accomplished in her doctoral thesis on Borges, and what her mainstream colleagues have passed off as literary theory, exposes academic discourse for what it is — an imaginary labyrinth without beginning or end that presupposes its own epistemological superiority.
This interview, started March 2011, has been in the making for nearly two years.  I spoke with Susana off and on via Facebook.
***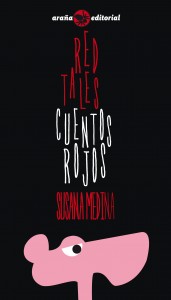 Maxi Kim: Stewart Home recently described your new book RED TALES as "a total shock to mummy porn fans – E. L. James meets J. G. Ballard! Makes both writing and BDSM dangerous once again." I personally found it much more readable and theoretically latent than much of what passes today for Feminist writing, much more so than even Kate Zambreno's Heroines. How did this project come to be? What are its origins?
Susana Medina: I like your way of putting it, 'theoretically latent.' Red Tales came about through a cluster of concerns. I was interested in fluid sexualities, gender, androgyny, the irrational, compulsions. All the stories are narrated by wayward female narrators. To articulate a defiant female gaze was important for me. In a way, looking at the female nude in Art History, made me want to make all these women speak back. So maybe I became a ventriloquist for these sensual women who seemed so quiet. It was also a reconciliation with narrative, as my first novel, a fragmentary anti-novel, had as its point of departure the most minimalist Beckett. My interest in poetic fragments remained and I intertwined it with fast-moving narrative, so I suppose there is this newly found pleasure in narrative, with the fragment as counterpoint and vessel for interiority, as well as for the fragmentary realities we live. All the stories are conceived as spaces, like art installations. The image was central to all the narratives. I was really interested in American female artists like Cindy Sherman, Jenny Holzer, Kruger, the vanished Cady Noland, in subjectivity and identity as fluid entities… Thank you about the Kate Zambreno's Heroines reference, which I googled straight away. Like I googled E.L. James when I came across Stewart Home's blurb, which I thought was nicely confusing. By the way, I hadn't read JG Ballard at the time –he was later to become one of my favourite writers-, but the connection is there, in terms of a shared interest in the psychopathology of everyday life.
MK: What do you make of Marie Calloway?
SM: I don't know her. Who is she? Interesting?
MK: Interesting? It depends on who you ask. Like you, she's interested in fluid sexualities, gender, compulsions, articulating something that approaches a defiant female gaze. She has put out public nude photos of herself with texts that overlap; there may be a parallel here with your project of looking at the female nude in Art History. I am reminded of that last scene in Lars von Trier's Antichrist (2009) when all the wayward anonymous females climb up the hill to presumably kill Willem Dafoe.
SM: Googled her and printed an article, but still haven't quite woken up. She sounds interesting, like Chris Kraus. You've worked with her, haven't you? Or related? Cousins?