Swamp Isthmus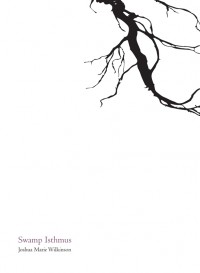 Swamp Isthmus
by Joshua Marie Wilkinson
Black Ocean, 2013
88 pages / $14.95 buy from Black Ocean
1. I've been working on this since this past spring. After reading Beyond The Like Factory & The Hatchet: Rethinking Poetry Reviewing by Joshua Marie Wilkinson, I knew I had to finish this review. This is actually a scary thing to write now.
2. Swamp Isthmus is Joshua Marie Wilkinson's first book with Black Ocean and the second book in his No Volta pentalogy (first is Selenography, Sidebrow 2010; third will be The Courier's Archive & Hymnal, Sidebrow 2014). I've not read Selenography so there is perhaps some things I've missed by not having done so.
3. A swamp is a living-dead landscape; the living feed off of the dead and dying, the most dead areas are filled with the most life and the least dead areas are those with the least life.
From the Hart Crane epigraph (The resigned factions of the dead preside) in the very beginning of Swamp Isthmus, Joshua Marie Wilkinson creates a zombie landscape, a zone that infects the living with symptoms of deadness. In a zombie film this deadness comes to the living with capitalist critiques of our alienating existence, but in Swamp Isthmus we see a zombie that carries critiques of the ecologic and nostalgic sort.
4. The lyrics of Swamp Isthmus are a living-dead endeavor: precise breaks eluding a narrative; linearity reduced to phrases contained in the line.
to disappear you must
tunnel discreet
descrying over nightfall
with unclogged wind
this coast is longer than a train track
needing coarse woolen cloth &
the clothes you're in
so needing a bad song
to whistle what's known
but may stick
to another's mouth
5. Similar to what Zach Savich says about Wilkonson's lyrics, to kill a zombie takes precision: remove the head, destroy the brain.
6. In The Dead Rustle, The Earth Shudders, Evan Calder Williams points to something that is obvious in Swamp Isthmus:
"…the undead have never really been dead in the first place—they never died.'
7. To cross a swamp takes precision and a mind for the contradiction of the living-dead: step here, not there; eat this, not that; drink plenty of water, but don't drink the water.
footpaths marked by
false stars
it gathers up in
this bladder of light
8. the trees palsy/ to our bad lines.
9. In some respects, there is an admission with these lines of the failure of poetry to enact this landscape; the lines aren't good. In some respects it's proof that poetry works: even the bad lines cause the landscape to shudder.
10. There may be an actual "Swamp Isthmus." The book's title might be a reference to Gastineau Channel in Alaska, which at low-tide creates an isthmus from mainland Alaska to Douglas Island. Fritz Cove Road, mentioned in the section, I Go By Edgar Huntly Now, is a road that "dwindles down/to a patch of currants" (note the clever word play on 'currents') but it also ends at the place where Gastineau Channel meets Fritz Cove. A place that may eventually be unnavigable by watercraft. A place severely affected by glacial melt/global warming. READ MORE >
Comments Off

on 25 Points: Swamp Isthmus
December 3rd, 2013 / 5:33 pm