Taryn Andrews
is the code you can use until midnight today to get free shipping on Tyoyeu. What is Tyoyeu? "Tyoyeu by Seths in Poetry." is the Book of 2007-2011. You can get it today, truly at cost, because shipping its 466 pages will cost you nothing. Keep in mind: "Our manufacturing process precedes shipping." (Know too: 2012 not included.) Two copies of Tyoyeu came in the mail today having been shipped expediently, with extra not free shipping. When you have Tyoyeu you will see who needs WHOASHIPPING. Also today: two copies of What Is Amazing arrived, delivered on foot by the author. The author is a fan of Tyoyeu. Fans of the author are fans of what is amazing. Now I'm going to play basketball with Rachel B. Glaser and John Maradik and then I'm going to eat the rest of this pizza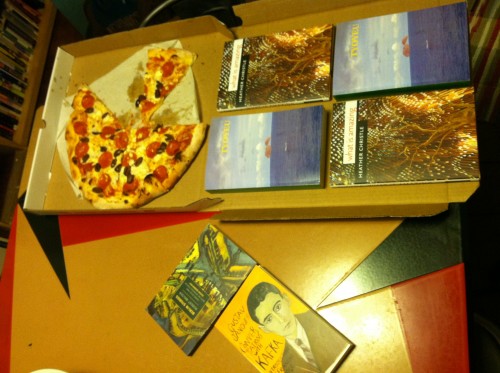 and watch basketball with Emily Pettit while typing words from the six books pictured (Berlin Stories by Robert Walser translated by Susan Bernofsky, TYOYEU by Seths, What Is Amazing by Heather Christle, TYOYEU by Seths, What Is Amazing by Heather Christle, and Conversations with Kafka by Gustav Janouch with a cover by Maira Kalman) in the comments. Whoever is the first to BOTH take a picture of themselves reading both Tyoyeu and What Is Amazing AND correctly match all the words with the correct book (in the comments), that person will receive (either via expedited shipping or delivered on foot by the author of this post) six machines:
the only copy of a book written just for that person (either OUR THE ROBERT WALSER or NANCY KÖF'S BÖK MADE OUT OF WORDS™ or RODNEY GRAHAM'S MACHINE FOR READING LENZ)
Matvei Yankelevich's Bending at the Elbow (trade edition, pictured below)
Taryn Andrews' Clouds Can Trees
Lesley Yalen's The Beginning In (watch Lesley read on a Seth's Divine Magnet)
Just Kids by Lawrence Giffin and Lauren Spohrer
 This Is What We Are Up Against by Ben Hersey, who is what what is and will be touring with Heather Christle in March and April.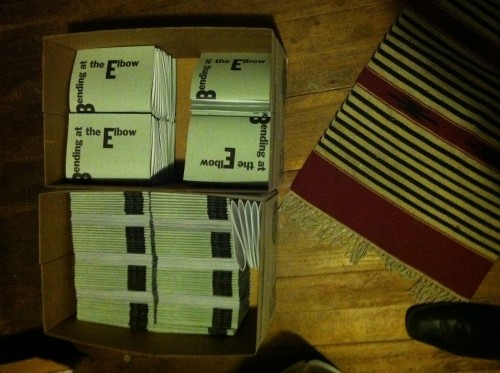 Here are some chapbooks that Amy Lawless and I read recently and want to share with you.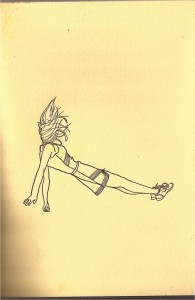 effie by Will Edmiston (Three Sad Tigers Press, 2011)
Construction: Elegant letterpress of a cheerleader in midair after being thrown up by her teammates (from a series called Fan Death by Kristina Williamson). Thick cream card stock cover. The poems themselves are printed in whatever font a typewriter is.
Sample Poem: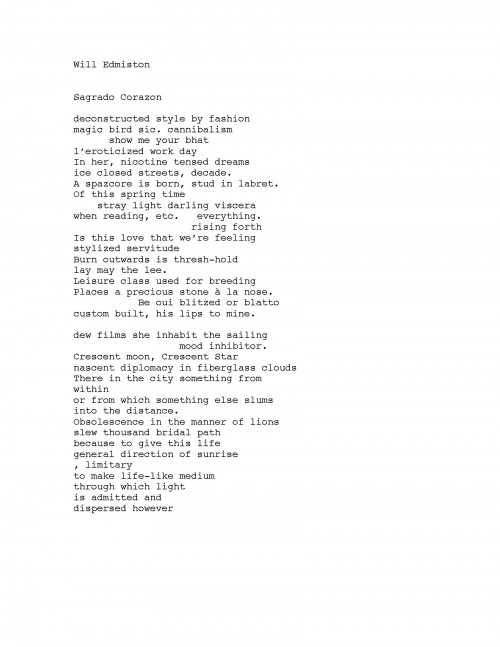 READ MORE >