the girl with brown fur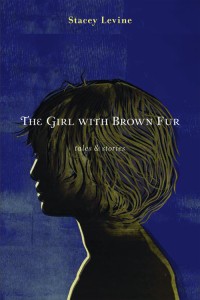 Couched within the strange fables in Stacey Levine's latest story collection The Girl with Brown Fur are recognizable hurts and self-defeating desires. The way she writes about such things is what makes her fiction the elegant, precise and transcendent wonderland it is. For instance, in the story "The Girl," the narrator sees a young girl on a leash in the hallway of a hotel, and determines to steal her. As we enter the mind of a child-abductor, we register the obsessive thinking, the cagey strategizing – it's distasteful, ominous. Then a chance remarks reveals the narrator is a woman, one who has always nursed "the wish to transform into someone else, a different kind of body, to find another story in which to live." Clearly she is appropriating the girl as way to do this, and the urge is as uneasily recognizable as it is licentious. The story plays with power dynamics in a new way – the animalistic qualities the narrator projects onto the girl (the one with brown fur) make a subtle point about exploitation but also tilt the story into poetry.
This is Levine's genius – to make her points allusively, in an allegorical code, one that nevertheless always feels down-to-earth and revealing of very real pockets in the human psyche. In an interview included with the press package of her new collection, she says: "It wouldn't mean anything to say outright: 'He was feeling really anxious because he had always been criticized by his father.' But it does mean something for me to tell how that would feel, to try to share that experience in a new way." The technique she has developed for doing this leads her into sometimes surreal and hilarious allegories – about mass production work in a sausage factory ("Sausage"), for example, or a brother and sister who marry each other, with their parents' approval, and incite wrath only when they want to move out of the family house.