HTMLGIANT / The Listeners
Janice Lee
Leni Zumas is the author of the story collection Farewell Navigator (Open City) and the novel The Listeners, recently out from Tin House in 2012. Her fiction has appeared in Quarterly West, Open City, Salt Hill, New Orleans Review, New York Tyrant, Columbia: A Journal of Literature and Art, and other magazines. She is an assistant professor in the MFA Program in Creative Writing at Portland State University.
Tin House says of her new novel:  "Leni Zumas portrays a world twisted on its axis by loss, in all its grotesque beauty. From the first line the prose is glorious: pricklingly honest and hallucinatory, a lucid dream world realized. The Listeners marks the debut of a major American writer."
Check out the haunting book trailer by artist Luca Dipierro.
This interview was conducted through email.
***
Genevieve Hudson: The Listeners is filled with examples of renaming, not naming, and unusual descriptions. One example that comes to mind is a boy you describe as "a calamity-haired baby spark." Do you think of ways to defamiliarize as you write? How does it play a part in your process?
Leni Zumas: My debt to Viktor Shklovsky is huge. Reading his essay "Art as Technique" years ago broke wide open, for me, the idea of strangeness in fiction. In Shklovsky's view, "estrangement" is crucial to sensation: the reader must experience something as slightly off-kilter, off-expectation, in order to see/hear/feel it as if for the first time (and thereby to be moved by it). The things we've already seen—or believe we already know—lose their ability to move us. So as I wrote The Listeners, I was always trying to avoid terms so familiar they've grown dead, or at least deadening.
Author Spotlight
/
2 Comments
June 29th, 2012 / 12:05 pm
Janice Lee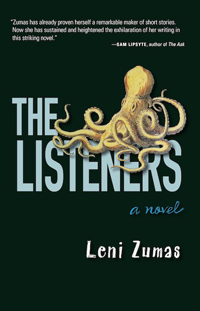 The Listeners
by Leni Zumas
Tin House, May 2012
352 pages / $12.95  Buy from Tin House, Amazon
When loss is central to a novel, its author faces the unique peril of either fixing the loss—after which there is not much of a story—or dilating it, foregrounding it, and even praising it so that it becomes habitable for a reader. The absence has to be wildly present if it is to be effectual, and the character experiencing it has to be enjoyable enough for a reader to stay with her as she grieves, reassembles herself, or falls abyssward. Leni Zumas's The Listeners is a novel whose narrator, a thirtysomething bookstore manager and former singer named Quinn, orbits around the loss of her younger sister. Zumas's effort to preserve that loss is stunningly successful. She reveals Quinn to us in circling episodes, deftly holding the character in the form of a smear of selfhood who doesn't want to be entire.
The condition of completeness is impossible in Quinn's world.  Since her sister's death decades ago, she's been only part-person, and ghost-heavy as the story she gives us. A damaging spectacle of protracted grief, Quinn's narrative is open enough to let us see her vulnerability and temporally broken enough to get us to believe that her words belong to time itself, which doesn't care about chronology. There are moments when Quinn acknowledges in interior monologue that she isn't whole or capable of experiencing herself wholly. For example, in an early scene in which she and her brother Riley are walking to their parents' house for dinner, she says, "As usual I imagined the destinations of strangers to be firmer than my own. They all had real places to be, where real things happened." But it's mostly the angularity of Quinn's narrative that establishes her fragmented nature. Restless, it drags us back and forth between three periods in Quinn's life. The first of these is Quinn's childhood, the era when she loses her sister to a freak bullet. In the second era, as a young woman, Quinn is mostly on the road with her band. The third era, the present, is incomplete, tumescent as it is with pasts.
Reviews
/
2 Comments
June 29th, 2012 / 12:00 pm