The Memoirs of JonBenet by Kathy Acker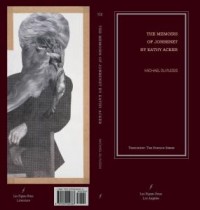 The Memoirs of JonBenet by Kathy Acker
by Michael du Plessis
Les Figues Press, 2012
103 pages / $15.00 buy from Les Figues Press
1. I have only read one true-crime novel or account or whatever they're called within the genre–if you count Peter Sotos as a true crime author (why would you?) I guess this is a false statement–a book on JonBenet, and it was sort of astounding and blew my mind. I know most of these true crime books are about two steps away from conspiracy theorists & 9/11 truthers, but ultimately the way evidence is presented, if not actual evidence, creates a new world of fiction that is both troubling and astounding.
2. And as such I've had a JonBenet obsession ever since. There's a gross collaboration going on within the recounting of the JonBenet narrative: the young white princess of middle america challenged by a vicious S/M monster snuff ring kiddie porn mystery. And perhaps the perpetrator was her parents? It's like the pool party at the Hard Rock Casino in Vegas; this is the true avant-garde of American letters, the fuckTness of the popular zeitgeist.
3. Then there's Kathy Acker, who I want to haunt me like the sun does, and she does sometimes, and she surrounds the air of the people I eat dinner with here in San Francisco.
4. Kathy Acker is a force invented by both fiction and second-hand statements that act as a guide when the bullshit becomes too much.
5. Have I mentioned there is also a chapter where JonBenet as Kathy Acker (or the other way around) is O from Story of O (which retains such a more beautiful sounding title en francais, Histoire D'O) and Rene is nowhere to be found and certainly NOT Little Lord Fauntelroy but rather Boulder is Roissy somehow and the carpet is all similar and the entire facade crumbles under the watchful eyes of O I mean JonBenet I mean Kathy Acker I mean Michael Du Plessis.
6. Right now, while writing this, I am hungry and want to go make myself a sandwich but I'm trying to stave off the hunger until this is finished because JonBenet is a doll and a doll is not real and dolls do not have to eat to sustain themselves and TO BE REAL IS THE WORST.
7. Nothing in this novel moves in a linear fashion. Events happen and then other events happen but there is certainly not any discernible narrative arc unless you literally construct one out of "your ass" which, I suppose, is possible, but ultimately not within the diegesis of the novel itself.
8. Of course what I mean by the above point is that within this realm of circumstantial 'realism' that may or may not be what the point of contention on this blog even is lately, it's ultimately futile when you realize that modernity is over (jesus christ get over it) and we are all so post-grand-narrative that the way things move is LIKE THIS, okay? Yesterday I went to work I ate a pretzel I took like three shits I sat on some stairs I read a Franck André Jammes book I took the BART to my boyfriend's house and then I passed out without having sex because I was feeling exhausted HI THIS IS HOW NARRATIVE WORKS IN REAL LIFE, WHAT THE HELL IS THIS REALISM SHIT.
9. It's like the way narrative works in this book is how Kathy Acker understood narrative which means, both, that Du Plessis understands Acker and that both Acker and Du Plessis understand narrative.
10. What I mean by this is the movement in this book is gorgeous but stilted which makes it even more beautiful. Why are we reading? READ MORE >