The No World Concerto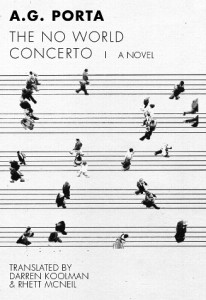 The No World Concerto
by A.G. Porta
Translated by Darren Koolman
Dalkey Archive (Spanish Literature Series), 2013
339 pages / $16  Buy from Dalkey Archive
I've been getting over this cold for about ten days now, and last week I had an especially bad night. I had taken 10mil of tussin pretty late, and now I realize the medicine was keeping me awake. At one point in the night my left leg lost circulation, and when I woke up, I thought, "Oh great, now that leg is entering the No World." And as I slept, waking every hour or so, I had this creeping fear that more of me would fall into the No World. A terrifying prospect to be sure.
For A.G. Porta, the No World isn't Bizarro World, but the subliminal articulated in a language we can't understand. In The No World Concerto, out now from Dalkey Archive, A.G. Porta considers the limited tools we have for approaching reality and the so-called subliminal.
Like Cortázar's 62 a Model Kit, The No World Concerto takes place in an unnamed city "the neighboring country's capital" aka Paris. A "Screenwriter" obsessively writes a script that follows his relationship with a young piano prodigy, "the girl," herself writing a sci-fi novelized account of their affair. The plot of The No World Concerto, comes across as somewhere inside and outside of all of these texts.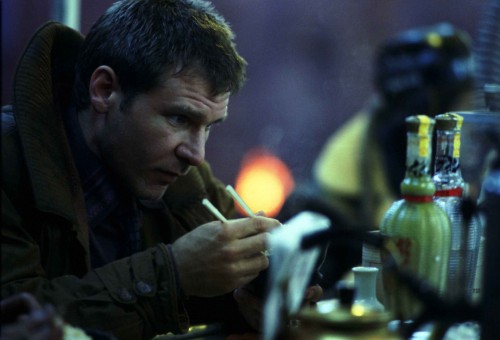 The girl's novel follows the story of an aging Alien-hunter.
Early on in The No World Concerto, the girl outlines her relationship to the No World:
I hear voices, the girl confesses. I think they come from another world. The young conductor asks her how she can be sure. How doesn't she know the voices aren't just inside her head? But she's utterly convinced of it, and that should be proof enough it seems. The young conductor says no can know if something exists in and of itself outside the mind…They're not even voices from this world, insists the girl, they're from a false world, a No World created by some alien consciousness…(her novel) touches on this…the No World she writes and rewrites without ever getting anywhere; the No World that's always expanding inside her, ever ripening, while never reaching maturity.
After co-writing a novel with Roberto Bolaño in the early 1980's, Porta reportedly shut himself off from the world rereading Joyce and Wittgenstein. In No World, he lays the Wittgenstein on pretty early and pretty thick, highlighting the central paradox of the novel: Although our reality is bounded by language, language cannot describe all of reality.
Consider the joke: "Jean-Paul Sartre is sitting at a cafe. He says to the waitress, 'I'd like a cup of coffee, please, with no cream.' The waitress replies, I'm sorry, Monsieur, but we're out of cream. How about with no milk?'"
For Porta, the act of literature is a negative act, naming thus negating imagined realities, because each "reality" corresponds with a multitude of unknown realities. Jacques Roubaud identifies this as the plurality of worlds. He says: (since I think/that the real/ is in no way real/how am I to believe/ that dreams are dreams)
So while the constant iteration of realities (via literature) might voice a critique towards a status quo, that critique will always be limited by the language we have. The infinite No-Worlds and Bizarro Worlds and alternate realities, (Crises on Infinite Earths, etc) of this world and reality are not really positive (or negative) mirrors, but rather frustrated slidings along an unknown continuum. Blanchot identifies this as the lot of author's struggling away at a "work," somehow existent, although ephemeral. Knowing that the transfer of this "work" from the subliminal kills it, and that the true triumph of literature comes somewhere in it's ability to hold up the shortcomings of language.
While this might sound a little overwrought, Porta has a very light touch. And The No World Concerto is funny and enormously readable. Outside of her novel, "the girl" flirts with New Music stardom, adopting a John Cage-like rejection of rigid serialism in favor of indeterminancy.
Her Little Sinfonietta group performs a piece very reminiscent of The Green Table by Kurt Jooss.
By the third act, the "Screenwriter" sinks into mad-monk schizophrenia, and the action culminates in a very Robbe-Grillet-esque shocker. Although hailed in Spain as "one of the top ten Spanish-Language novels of the decade," The No World Concerto resists simple interpretation, as it interrogates literature and compulsion in the modern world.
***
Joseph Houlihan lives and writes in Minneapolis, MN.