Tom Spanbauer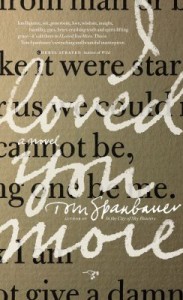 I Loved You More
by Tom Spanbauer
Hawthorne Books, April 2014
468 pages / $18.95  Buy from Amazon or Hawthorne Books
I Loved You More by Tom Spanbauer starts with a slow burn, like an acid trip, of which there are a few in the book:  There's a preliminary period of seemingly aimless hanging out, and just when you start thinking nothing is going to happen, the room lights up, your heart lurches, and everything begins to glow.
Other writers have tried to quantify the transformation that occurs reading Spanbauer's writing, the feeling of truth as opposed to artifice, the sense that now we're really talking. The closest I can come is that it felt like letting air and light into a dark room. The book's narrator, Ben Gruneberg says it much better, "When you get close to the vein that's pulsing truth, when you open that vein, you can scrub your soul clean with the blood."
Spanbauer is known for his truth-telling and open veins. He's a gay writer and creative-writing teacher in Portland, Oregon, one of the gang of Portland writers of whom Cheryl Strayed and Chuck Palahniuk are the most famous, and Lidia Yuknavitch is the most beloved to me, personally. (Though, I don't know if all these people are really a gang, or if that's an outsider's perception; I'm calling a Portland School, and assuming Spanbauer is a founder.) His Wikipedia entry says that he's been living with AIDS since the 90s, and his AIDS book, In the City of Shy Hunters is a literary classic.
This latest novel, I Loved You More, published by Hawthorne Press in April 2014, is also a gay coming-of-age story, a living-with-AIDS story, and a story about male friendship, which seems to be mostly autobiographical. In it, Spanbauer's alter ego, Ben Gruneberg—like Spanbauer, a writer and writing teacher with the same basic points of biography—chronicles his lifelong friendship with a straight male writer, Hank Christian, and the explosive end of that relationship. A bit of Google-digging will reveal a possible candidate for the real-life model of Hank.
On one level, it's not a particularly dramatic story—a love triangle! featuring three writers! in Portland! and a pot of kale!—and how it all ends is mostly revealed on the first page. Moreover friendship is usually a side-story, not a main event, and devoting a book to the demise of one feels odd. The first section takes place in New York in the late 80s, when Ben and Hank are young writers at Columbia, studying under a fictionalized version of Gordon Lish, and their hanging-out, and the importance Spanbauer imbued it with, took a while to seize hold of me. And then it did.
Part of the alienation and then the magic is Spanbauer's prose style, which is beatnik-ish in an old-fashioned way, using slang and refrains, a lot of fucking this or fucking that, man. His sentences are unconventional and fragmentary: "That old litany in this strange new place, how it made my heart stop." Or this description of a leather bar: "In front of us, three men deep. Beyond, the bar is dark. Smoky dark. A foggy night, an ocean of men, dark waves. They have a sound, the waves, here and there bursts of pirate laughter, then no laughter."