Travel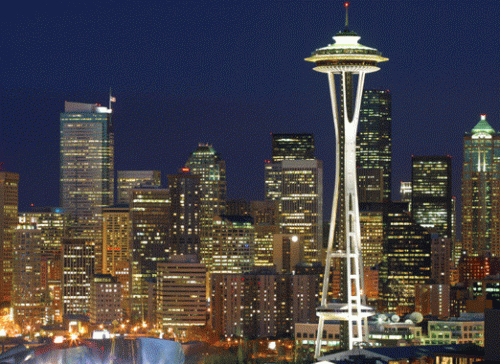 I've been here since mid-April and there's plenty of poetry all over. Some of it I see in person and some of it I see on the internet. More about internet poetry stuff later, I hope.
The places I go to see poetry in person, so far, are Vermillion (a bar and gallery), Elliott Bay Books (most prominent independent bookstore), and Hugo House (a writer's organization).
I came to Vermillion for a cozy late-afternoon reading. It was either a Wednesday or a Thursday. I entered through the long white gallery. The audience was small and old and very supportive. I sat in the back and listened while smiling. The commercial space is in a nightlife area, across from thrift store that is animorphing into ugly condos even as I sip the $4 tequila-soda, in a religiously-calm moment after the performance.  
This morning as I was catching up on MobyLives I came across a video of David Foster Wallace discussing the productive failure of traveling. It was filmed in 2006 while he was in Italy and if you watch it you will hear DFW say, "Everything that is a failure is also a victory," and you will see Jonathan Franzen chuckling to himself and leaning back in his chair, which, as we all know, is Jonathan Franzen's favorite pastime. In any case, 2006 was the first (as only?) time that DFW had been to a country where English was not the predominate language and his failure to be able communicate caused him to feel like a child, or more accurately an infant. He had to pay closer attention to others faces and gestures. He had to slow down.
I am leaving the country on Wednesday and I won't be back until winter has left this hemisphere. I'm doing this for a number of reasons but the most interesting of which is to write. I suppose what I'm writing doesn't matter much because any plans I have now are sure to change. The point, I think, is to put myself in an environment where I am clueless, where I have to pay closer attention to the banal, where I am forced to adapt, to learn and to fail.