Tunneling to the Center of the Earth
Kevin Wilson writes about things like dead sisters and screaming babies and sexual relationships between cousins. He also has published a few entries from his series 'Tommy Explained,' one of which you can see at the new Lamination Colony. I don't want you to think that's all he writes about, though, so visit his website or his blog. Also, you should know this: Kevin Wilson has a book coming out. It's called Tunneling to the Center of the Earth. I bet it's going to be funny.
Kevin was kind enough to send us a pic and a few words for today.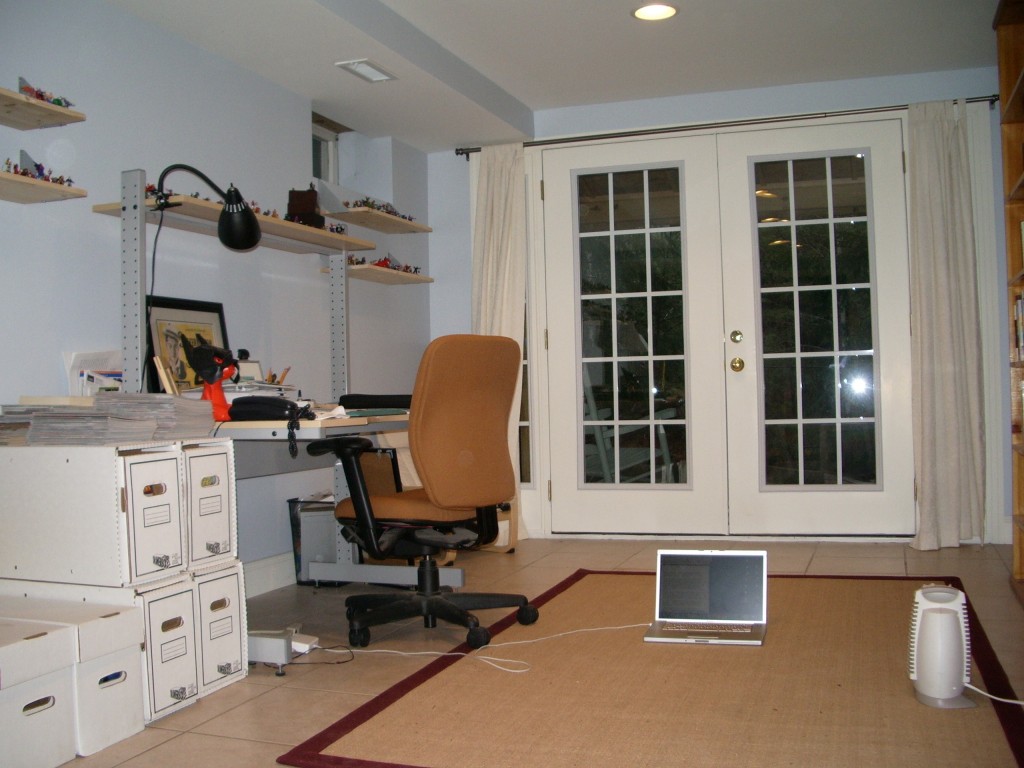 Okay, above is a picture of Kevin Wilson's word space. Here's what he had to say about it:
When our son, Griffith Fodder-wing Wilson, was born in January, he took my study. There was little debate about the matter. The baby needed a room. I had not considered the situation, our tiny cabin and where we would store our kid, before we decided to have a baby. I should have thought about it a little more.

So my dad (who is the most capable person I know and loves, Jesus Christ, loves to use his wet saw and nail gun and his esoteric knowledge of wiring) and I turned the unfinished basement into a study where I could hide for a few hours and get some work done. It's also where I keep my comic books and figurines. Oh, and I keep my regular books down here as well. I have a desk, but sitting at the desk feels like I'm still at my 9 to 5 job, so I sit on the floor and write with the computer in my lap. I keep the space heater running no matter the season because I have terrible circulation and get cold easily. There's a view of the pond, and stray cats like to lounge on the porch. There was a bat but I sprayed enough tea tree oil in the rafters that I either killed him or he got the message and left.

I felt very disconnected from the space for a few months. I could hear my wife and baby overhead, which made me feel like I'd died and they were learning to live without me. I kept finding cave crickets in the corners of the room. The baby kept us up most nights and so I found myself falling asleep on the floor, an hour having passed, no writing accomplished. The near-constant presence of the bat was, frankly, unsettling. The baby had kicked me out of my house. I was in the basement. What the fuck had happened?