Very Beautiful Woman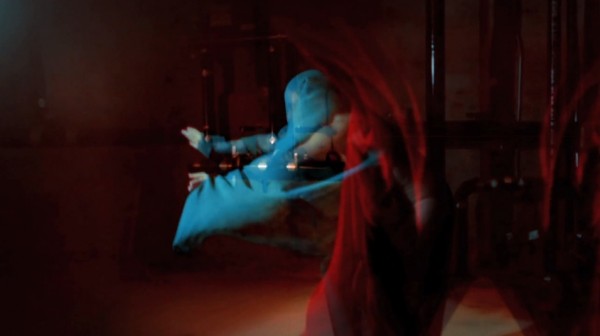 The new short film from Ellen Frances, "Old Theme," follows her 2011 short "Very Beautiful Woman" in a series of intense self-portraits. Her control and exactitude become more apparent with each release, and while this series departs from her music video and other creative work, the same instinct for evocative composition pervades these first two entries. Collaborating this time with Jason Lescalleet and Jenni Hensler, Frances expands on the motifs introduced in the earlier short.
The title comes from a track on Lescalleet's 2012 album Songs About Nothing, and together with another track ('The Loop') from same, the tape musician's musique concrète comprises the majority of the soundtrack. Frances opens with audio from her own ECG looped over spinning gears—blood circulating, heart in constant rhythm, my pulse as yours doth temperately keep time—then crashes it into 'Old Theme' and appears herself as a dancer wound in Hensler's sheer red and blue silk.
Hensler has designed costumes and outfits ranging from Zola Jesus' white-LED spiral collar to dresses for Chelsea Wolfe and styling for Crispin Glover. The silk she uses for Frances' costume frames the face and billows in directions from which the half-hidden body withdraws. Constriction / flow and opaque draping are coordinated and shot by Frances, but the costumes themselves seem like burning auras flung outward to track her body. READ MORE >