We All Sleep in the Same Room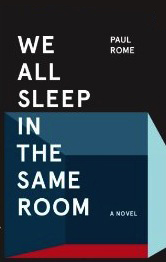 We All Sleep in the Same Room
by Paul Rome
Rare Bird Books, November 2013
192 pages / $14  Buy from Amazon
In his debut novel, We All Sleep in the Same Room, Paul Rome achieves what even seasoned novelists often fail at: generating characters that feel real-to-life, situations that seem organic and natural, rather than the second-rate simulacra of bad fictions, and a cultivated style that is beautiful in its understated elegance — sculptural, even.
Much has been written lately on the ever-quickening Brooklyn lit scene, although there has probably never been a dearth of "Brooklyn novels" or "Brooklyn writers." Rome's first novel positions him as a new voice with an old soul, a writer more akin to Paul Auster both stylistically and thematically than to his peers, like Tao Lin and Adele Waldman, whose Taipei and The Love Affairs of Nathaniel P., respectively, chronicle the lives of young, writerly Brooklyners as they negotiate the perilous hinterlands of relationships — both to others and to the self. Rome echoes Auster in his clean, well-lighted prose, and Rome's conjuries of the city, with its infinite chance happenings and endless sense of mystery, is likewise definitely Austerian. But whereas Lin and Waldman direct their foci towards the realm of listless twenty-somethings, Rome explores the vagaries and varieties of middle-age. Despite its being set in the Fall of 2005, Rome's New York is the New York of old, and his subjects are similarly different than those of his contemporaries.
With surprisingly intimate psychological acumen, he dissects, scrutinizes, and mournfully portrays Tom's and Raina's failing (and ultimately failed) relationship. Tom is a union lawyer, a hard-working professional dedicated deeply to, and personally invested in, the ideals of justice and equality that his firm ostensibly seeks to uphold. Within the novel's overall context of loss, the presence of an idealistic politics on the part of Tom makes the withering of it all feel especially concussive.
The novel is characterized by a powerful sense of the teleological: every absence-haunted sentence — each of them exercises in the potency of minimalism done right — seems to foreshadow intensely and evoke powerfully the fact that the novel will have a devastating and inevitable end-point. It seems so frequently to be raining or snowing in Rome's New York. We All Sleep in the Same Room is a very melancholy work. We are drawn inexorably towards the emotional black hole at the novel's core; we are sucked beyond its event horizon with every painfully wrong move on the part of Tom. Jessie, a young and incredible eager young woman and a recent hire at the firm, is at the heart of Tom's and Raina's marital divide — sort of. Rather than coming across as a "manic pixie dream girl," a young woman who is, like the young women in some of Philip Roth's novels, a tabula rasa upon which a disaffected and disenchanted older man can project his erotic obsessions onto, Jessie is truly "three-dimensional" and deeply human. Rome's characters operate on a number of different registers, all of them faithfully drawn and vividly realized.
Rome's style is lucid and elegant; he handles the issue of back-story — a pitfall for even the greatest of writers — with admirable élan. Like James Salter (Light Years, A Sport and a Pastime) and Richard Yates (A Special Providence, Revolutionary Road), Rome is interested in the internal, in the mysteries of selfhood, of past, of memory, and of regret. These he explores, like Salter and Yates before him, through the lens of a relationship dissolving and disintegrating as a result of the pressure put on the present by the protagonist's past mistakes. And Rome's authorial voice is astoundingly mature, his style effortlessly clean: lyrically restrained and "taut," his prose reflects the mounting tension and anxiety that come to pervade the work as Tom's domestic and professional life unravel. Rome's narration exudes confidence and assurance, and has an ethos from the first line to the last — the kind of ethos that carries a novel and ultimately makes it one worth reading.
The novel is haunting and understated, with sublimated and shadowy pasts that re-emerge like phantoms. The persistence of past mistakes, the persistence of time, the inevitable forward-movement and forward-momentum towards the end of all good, or seemingly good, things: these are Rome's real narrative interests, and he delves into them in thought-provoking and emotionally resonant ways. We All Sleep in the Same Room is a dirge for things lost, a New York novel of the old-school, and a powerful debut by a writer who has almost preternaturally insightful things to say about all that is.
***
Michael Abolafia lives in New York City. His writing has appeared in Sunlit, Supernatural Tales, the New York Daily News' online book blog, Page Views, and other venues.
Comments Off

on We All Sleep in the Same Room by Paul Rome
April 7th, 2014 / 10:00 am