Ryan Call
Hacked by Tiger-M@te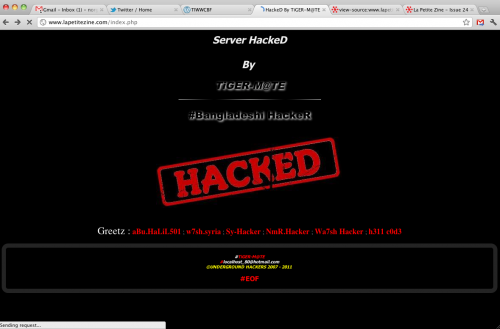 Regular readers of literary magazines (read: hopeful authors) were surprised this weekend to find their favorite literary magazines nearly completely destroyed by a vindictive and highly talented hacker operating on the other side of the globe. Most notably, Third Coast, Monkeybicycle, and La Petitie Zine were hacked this weekend, suffering from the attentions of infamous Bangladeshi hacker Tiger-M@te, who is responsible for many high-profile world wide web hacks. Earlier this year, he brought down Google's Bangladeshi site, and now he is in the process of defacing popular, highly regarded websites like resellerproductlist.com and terrysdigitalproductstore.com.
In fact, Tiger-M@te is hoping to set a world record with his latest masterpiece. The above literary magazines were part of a 700,000 website attack, which Tiger-M@te estimates is a 'world record.' He spoke exclusively with The Hacker News:
I hack 700,000 websites in one shot, this may be a new world Record. After submitting 200,000 domains,zone-h was going down again and again and became almost unresponsive in the end.so i was unable to submit all websites.so i've listed all domains in attachment. It was not just a server hack, actually whole data center got hacked.
Earlier this year, The Hacker News published an interview with Tiger-M@te, in which he claimed to write all of the code himself, as he only likes working alone. To his fans, he gave the following advice:
All i can say to my fans,"try to write your own code, rather than using someone else's code and exploits.This will help you to gain whatever you want and before doing things, know every stuffs and how those things work.Hacking is all about Knowledge and skills."
No word yet as to Tiger-M@te's plans regarding whether or not he'll pursue an MF@, though one gets the sense that Brown would love to have him.
7 Comments