Catherine Lacey
The Vicarious MFA: Let's Talk About Carl Wilson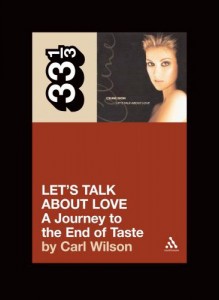 Carl Wilson is an adorably nervous Canadian music critic who lives in Toronto and he came to do a little Q & A with some students here yesterday. Carl wrote a great book in the 33 1/3 series about Celine Dion and we read it in Jonathan Lethem's masterclass a few weeks ago. That would have been the end of the story if it hadn't been for James Franco mentioning the book while at the Oscars and a bunch of blogs (Pitchfork, Idolator, The Village Voice, etc.) making a ruckus about it. Then he got invited to be on The Colbert Report, thus leading him to Columbia's Writing department to say hello and presumably thank James for the name dropping.
Discussed:
-Aesthetic relativism
-Autobiographies of taste
-Remembering that Celine Dion is a human being
More notes after the jump…
The "talk" was basically an informal Q & A with Carl about how he came to write the book, how writing the book changed the way he thought about criticism, and about some specific points that he made about taste and its evolution. (If you haven't read the book yet, I will just say that it looks at Celine Dion's work (which he admits to previously despising) in the context of Celine Dion as a human being and uses her music as an examination of what generates taste.)
Someone brought up that Carl had written an article on Slate that was in response to Sasha Frere-Jones's article A Paler Shade of White.
Carl said that for most of the time that he was writing the book it was hard to have an opinion about anything.
Why do we try to categorize some creative works as inherently flawed? Is criticism still possible without a transcendent criteria for what makes "good" work?
When listening to a piece of music, Carl said that he tries not to think about how he "feels" about the work, what his knee-jerk reaction is to it, but rather he listens to what is happening in the piece. There is no such thing as a context-less reaction. Does the work succeed on it's own terms?
Someone else brought up the point that when Updike died everyone was writing essays about what a great critic Updike was and that he always judged a work on it's own terms, not his terms.
Carl said that once he started thinking of Celine Dion as a human being it became impossible to judge her music as harshly. Thinking of an artist  in terms of their biography and humanity is a "good bullshit test" when you're writing a critical review of their work.
Is aesthetic realitivism dangerous?
Tags: Carl Wilson, James Franco
12 Comments