Ryan Call
$5 For You!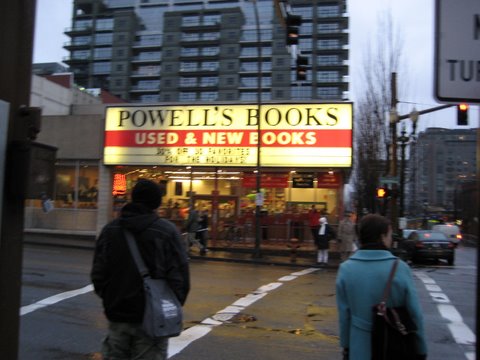 So, I've got here in my wallet a gift card to Powell's Books, a gift card that I did not realize I had. It has $5 dollars on it. I would like to mail it to someone as a giveaway, but that someone has to earn it. Basically, what I'm interested in hearing is a story about someone's experience at a bookstore, any bookstore, good or bad experience, and so on. I will judge what story I like the best and then get that person's mailing address somehow. I will announce whose story I liked on Wednesday morning, and then whoever told that story will be the winner, if that makes sense.
Okay, my lame story is this: I first went to Powell's a few years ago while I was at the Tin House conference. A bunch of us took the bus into town, missed our stop, and then had to walk a lot of blocks back over some bridge to the store. In Powell's, I felt overwhelmed. The shelves were very very tall. I could not reach certain shelves. I walked back and forth through the shelves and gawked at the amount of books that were on the shelves. I am someone who is only familiar with Barnes & Nobles, so yeah. Then, maybe about ten minutes before we were to leave, I found the 'independent' shelves. These shelves were on a back wall and next to them I found the 'literary journals.' On the literary journal shelves I found the 2005 and 2006 issues of NOON and Pindeldyboz #3. I bought the two issues of NOON but left the Pboz. I regret that decision. I think about it all the time. I regret it. I should have bought all three. Somewhere out there is a Pboz #3 that I did not purchase. I suppose I could go to the website and order one of the five issues that are left, but I sometimes think I'd rather just whine about the whole thing instead.
Anyhow, post your bookstore stories in the comments section, if you'd like. Or, if you want, you may email them to our HTMLGIANT email address.
UPDATED to direct your attention to the Bookstore category at Maud Newton. Guest Bloggers 'review' their favorite bookstores.
Tags: cash money, Powell's
12 Comments