Web Hype
The internet is a cannibal. Things come out and things get chewed right back in.
I don't know what compelled me to start a blogger account in 2007 or 2008 or whenever it was. Loneliness probably and the sense I had back then that "one should blog," a sense I no longer have but an impulse that ended up teaching me so much.
Anyway, from this weird ring of blogger accounts of fledgling writers and poets, the giant grew. We wrote things we might regret. We argued. We read so much internet our eyes stung and swole up and we maybe lost real life friends and gained internet friends that became real life friends. It was here I started writing stuff that strangers read, that I learned to defend myself in words. I read a lot, thought a lot, went to school, had this second school of folks here, teaching me the shit they actually do not teach you in school. I hope the writers younger than us have their giants, too. I'm sure they're out there.
I don't blog anymore (though I suppose this is one last exception!) and my internet consumption is way, way down, but it still means a lot to me, that this place was here, that it was what it was for a time. Thanks Blake & Gene & all you little lovely weirdos.
Blake Butler invited me to join the rowdy conversation over here in 2009. I was way older and different than most of the other contributors but they all welcomed me and what I had to say.
I got to start a Literary Magazine Club and we sure tried to make a go of it. I wrote about my homegirl Edith Wharton, sentimental women's writing, interviewed or reviewed talented writers, gave space other writers write on talented writers,  mused on writing a novel, accepted writing as a political act, considered diversity in the Best American series, and on and on. I have so many opinions and I will forever be grateful that I had this space to share them!
I wrote a lot here. I learned so much about how to argue, being criticized, developing a thicker skin, becoming a stronger writer, being more open minded, standing my ground. I am still a work in progress, but I've come so far because of HTMLGIANT. I have been exposed to writers, magazines, and presses I would have never known about and that are now part of my canon. I have met most of my closest friends through this place. Y'all, Mark Cugini, can I just shout him out? Every time I am in D.C. that man is there, the familiar face in the crowd. He, like so many others I have met through here, is tireless and awesome.
HTMLGIANT has its issues and they have been well-documented, particularly when it comes to sexism and racism. But the world is a difficult place. It would be strange to expect that this community, and it is, a community, would somehow rise above the world's imperfections as a utopia. We are readers and writers and we are, perhaps, idealists. We want to be the best versions of ourselves. Wherever this community goes next, we will be better. I hope we will continue to reach for that better place where we act and think compassionately and intelligently about the differences between us.
I don't have anything grand to say other than thank you to Blake and Gene for inviting me to share my voice here. Thank you, readers and commenters for supporting and challenging me and giving a damn about reading and writing. Thank you, all.
"Shot and edited by poet and photographer Rachel Eliza Griffiths, P.O.P is a video series featuring contemporary American poets who read both an original poem and a poem by another poet, after which they reflect on their choice. They then answer a question contributed anonymously by a poet in the series, and leave their own question for another to answer. What results is an evolving, multifaceted conversation among poets about the art form.
In 2014, the Academy of American Poets partnered with Griffiths to release the P.O.P video series throughout the year on Poets.org"
In the Los Angeles Review of Books' online Marginalia Christopher Kempf breaks, I guess, some new ground on the Abramson Debacle (ie, about Seth Abramson's 14-hour poem, Last Words for Elliot Rodger):
1) The main thrust of Kempf's essay (borne out of looking at and discussing Abramson's poem "as poetry, as an aesthetic work demanding, as all serious art does, the careful critical attention that lies at the heart of the literary discipline") is that poems should be written in response to tragedy but "they need to be written well."
2) Kempf completely dismisses Diamond's Flavorwire post because it "ultimately prohibits any aesthetic response at all to tragedy." He is, on the other hand, more sympathetic to Laura Sims' VIDA article because she "explore(s) in necessary ways the relationship between art and violence, helping advance the conversation about how writers can ethically and effectively engage with tragedy" but is concerned hers is "a rather conservative position with respect to art and culture" and that "(her) remarks perhaps too closely police, at least for (his) taste, who can and cannot write about violence and how."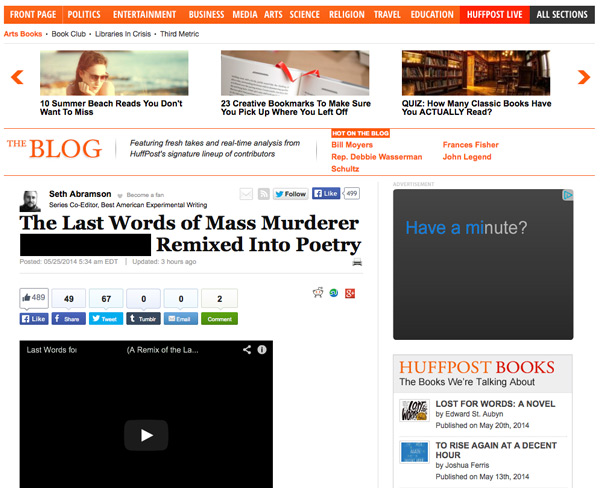 How do you ethically navigate your media?
When I heard today about the shootings in southern California, my first thought was, "oh, again?", and my second thought was, "Rachel is in southern California." After running to the computer to confirm that the shootings took place far enough away from where my wife is, and after feeling huge relief none of the victims were my loved ones, and after feeling momentary guilt for that relief in the face of others' grief, I felt the now-usual feelings of sadness for the victims and their loved ones, frustration at the cultural attitudes that enable and produce this now-usual violence, and renewed knowledge of my helplessness to protect those I love from "random" tragedy.
I then did my usual thing of scanning the web for information about what went on and what lead to it. I read a good deal of the killer's memoir/manifesto. I noted his childhood joy of opening a Pokémon booster pack to find a Charizard, his journey of dyeing his hair partly and then full-blond, his use of the term "playdate" to talk about hanging out with people when he was 17, his emotional connection to his N64, and his reverence for brand names. I realized he had probably killed his roommates before I saw any media mention that he had killed his roommates. I read that he had planned to kill his younger brother and his stepmother. I saw an excruciatingly self-involved man who in many ways still thought as a boy, and who had never been able to understand other people are human, like him.
After thinking a lot today about empathy—the visceral recognition of yourself in other people, of other people in yourself—and reminiscing some about feeling unloved, unattractive, outcast, and misunderstood, I scrolled past a Facebook post about Seth Abramson's remix of the killer's YouTube confession. I thought, "too soon!" and scrolled on. And then later scrolled past it, and then, on seeing it for the third time, read it. In the piece, Abramson reorganizes the killer's words into something life-affirming. Rather than railing against the dumb beast blond women and the thugs their animal minds force them to couple with, Abramson's piece intends itself as a message of comfort, understanding, and love for "Every single girl. Every single man. (Even obnoxious men!)" Even Elliot, the killer.
I then read the comments on the Facebook post.

Literature Party in Seattle tonight should be fun. If you're at AWP, please come!
It's a benefit party to support APRIL Festival, which is a big organization for making books awesome in Washington state. It's at FRED Wildlife Refuge and doors open at 9. It's not too far from the convention center. Tickets are $10 at the door.
It's sponsored by FSG Originals and Submittable and yours truly, HTMLGiant. Vouched is putting in a pop up bookshop, and if you buy a book there, FSG Originals will give you a free one of their books.
Capacity at the venue is 450 souls, but I think you'll be able to get in. However, I have overheard many people at the bookfair talking about how this is the one event they're sure they're going to.
Melissa Broder is reading. And Sommer Browning. And Amelia Gray. Those three people are three of my favorite, favorite people at AWP, a big thing filled with favorite people. Those three people are amazing performers of important writing.
Writing is a way to express ideas, and Melissa, Sommer and Amelia have the best ideas. Hearing them read inspires me, every time.
And after they read, there will be a big dance party featuring local Seattle DJs.
I'm in a big house where many of us HTMLGiant writers are staying. I think there are 12 of us staying here. John Dermot Woods just got out of the shower. He doesn't write for HTMLGiant actually, neither does Spencer Madsen or Mira Gonzalez. Last night Mike Young came home from his reading and fell over a chair. There's a hot tub at this house and I think there were 8 or so people in it last night at the same time. Downstairs Amy McDaniel is preparing a brunch for 50 people. I can hear Tim Sanders making Gene Morgan laugh loudly.
Come to Literature Party tonight?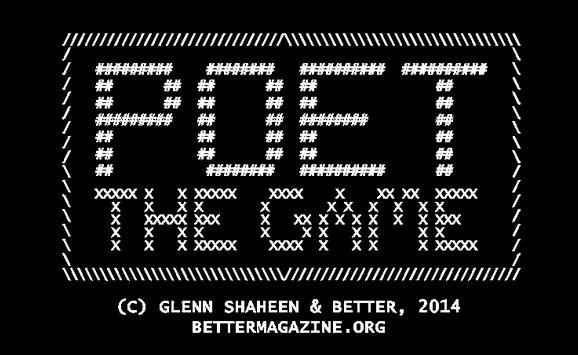 The new issue of Better is fresh off the CSS sheet.  I really wanna read the whole thing, but how am I supposed to not toy around with Glenn Shaheen's text-based poetry game for the rest of my life?
You call out from your bed in the dark. But you are alone, so so alone. Mainly because your last roommate was such a pain, always complaining about you leaving your dishes around, but, like, you're a poet! You don't have time to carry your dishes to the sink like some businessman. Of course you were kicked out of that apartment.
Poor all of us.