Ryan Call
Paper Egg Books welcomes you to the nest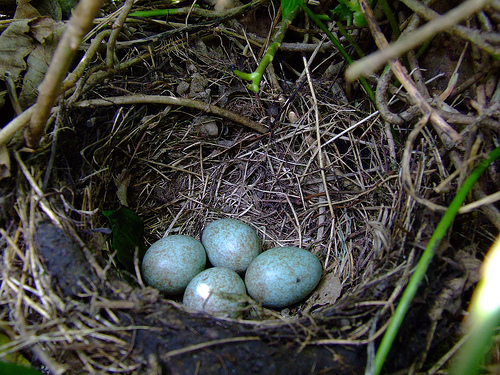 Aaron Burch reminded me that I had posted about Paper Egg Books a while ago, and he said new things are going on over there, things everyone ought to check out.
So I checked it out and am now out $50. That's right, a 3yr subscription to Paper Egg Books will cost you $50 but guarantees that you'll receive two books a year for the next three years. I like that idea.
So, goodbye, Ulysses S. Grant. Hello Paper Egg Books.
Paper Egg has also announced a few things that make me excited about my 3yr subscription. Because I am lazy, I have simply copied and pasted from their website the following two 'press releases':
The Great Paul Hornschemeier, he of the prodigious illustrative talents and author of numerous fantastic Fantagraphics books, will illustrate and design every edition of Paper Egg. As much as this little effort is something of a throwback, we wanted to embrace the old-school methods of having each Paper Egg contain similar design elements, so that as you line them up on your shelves year after year, they begin to amass a sort of group mind. To that end, Paul will work closely with featherproof design guru Zach Dodson to create our new line of books. And, of course, Paul will illustrate each Egg.

Really, we couldn't have found a finer artist for the job, as Paul has done some incredible book design work in the past, and each of his own books—including Mother, Come Homeand The Three Paradoxes—combines all that we love in art: a technician's eye, an impish sense of humor, and enough melancholy mixed in that we can never quite set our compass right.

If you're not acquainted with Paul's work, please, please acquaint yourself.
And:
So now that you know what we're doing, how we're doing it, it's time to tell you what we have in store. For our first Paper Egg, we'll be sending you The Awful Possibilities by Christian Tebordo. It's Christian's first collection of short stories, and anyone who's familiar with his past work knows it's got to be dark, beautiful, strange, and the kind of book that opens new doors with every page turned.

A little background: I'm lucky enough to hold off the bill collectors with my job as the editor of Time Out Chicago's Books section. When Christian's first novel, The Conviction and Subsequent Life of Savior Neck came across my desk in 2005, I was blown away. I had one of those nights where I didn't fall asleep until a couple of hours before work, when the book was finally done. Since then, he's followed it up with Better Ways of Being Dead (awesome) and We Go Liquid (amazing). So when we decided to launch Paper Egg, it was obvious to me that we should to start off right with a book from Christian. In fact, in some sense, Paper Egg was designed to publish Christian's book. It's brilliant, and strange, and the mammoth bookselling network is simply not suited for something like it. We're hoping we are.

To read a great Ned Vizzini interview with Christian, go here, and one of his stories at La Petite Zine.
I am going to go check my mailbox now. While I'm gone, why don't you visit their website, see how it works, and then subscribe.
Tags: featherproof, Paper Egg Books
14 Comments