Jimmy Chen
Bay Area Reading Tour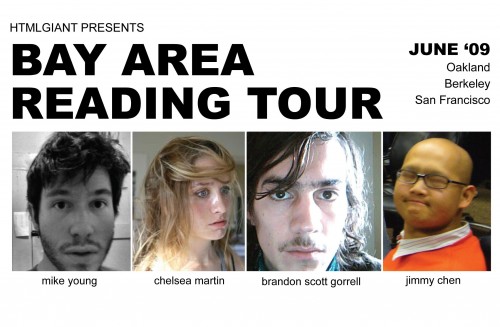 Contributors Mike Young, Chelsea Martin, and myself, along with 'associate' Brandon Scott Gorrell will be reading at some places in the Bay Area. This is what is known in the internet world as "irl" (in real life). If you're around, please come and say hello, but be nice, we are not ready for irl altercations. Mike is coming from Massachusetts [follow his tour]; Brandon is coming down from Seattle [follow his tour]; Chelsea and I live in the area.
ITINERARY

Friday June 5th [Mike & Chelsea]:
Epic Summer Art Opening Reading, Manifesto Bicycles (421 40th Street @ Webster) in Oakland CA, 7PM.

Sunday June 7th [Mike & Chelsea]:
Poetry of Oroville, CA Reading, Bicentennial Park (Corner of Huntoon and Robinson), 2PM. (First copies of Mike Young's MC Oroville's Answering Machine will 'probably' be available.) [*Oroville is not technically in the Bay Area, thus deemed a satellite event.]

Wednesday June 10th: To be announced/probable

Thursday June 11th [Mike, Chelsea, Brandon & Jimmy]:
Bittersweet Rockridge Poetry Series, Bittersweet Cafe Rockridge (5427 College Avenue) in Oakland CA, 7PM.

Friday June 12th [Mike, Chelsea, Brandon & *]:
Common Thread Poetry and Politics with Diamond Dave and Charlie Getter, Pirate Cat Radio Cafe (2781 21st Street) in San Francisco CA, 4PM. Streams online for internet listeners. [*maybe Jimmy.]


Saturday June 13th [Mike, Chelsea & Brandon]:
An Evening of Poetry and Whatever, Pegasus Books Downtown (2349 Shattuck Avenue) in Berkeley CA, 7:30PM.

Sunday June 14th: To be announced/probable
—
Below are links to the books Chelsea, Brandon, and Mike are promoting. I'm assuming they'll be reading from their books.
Everything was fine until whatever, Chelsea Martin

During my nervous breakdown I want to have a biographer present, Brandon Scott Gorrell

MC Oroville's Answering Machine, Mike Young
I know it's a little early for the latter events, but the first one is on Friday. I'm reluctant to 'remind' people with subsequent posts or updates, given the narrow geographical relevance (bay area) to our national readership. I guess what I'm sayin' is, this is the only post you'll see from me about this, so mark your calendar, or sharpie the inside of your thigh.
Here's to champagne not from Champagne, too much vs. not enough hair, and fake people who come to life.
Tags: Chelsea Martin, Mike Young
43 Comments