Alexandra Naughton
I Will Always Be Your Tour: Alexandra Naughton's notes from the road on her first book tour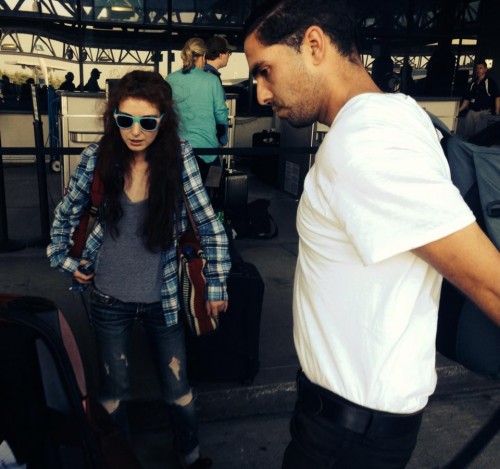 I wrote a book called I Will Always Be Your Whore [love songs for Billy Corgan] and I wanted to go on a book tour, so I made a facebook post back in February earlier this year and some people invited me to read at their reading series and most of them were located on the east coast so I did some research and decided to do an east coast book tour spanning about two weeks, hitting seven cities. I told Jesse Prado who is my bff and brother and he wanted to come along and I told him we should put a book together for him to sell on the tour so I published a book by Jesse called i've been on tumblr on my little press, Be About It press. It's a cute book, it feels nice.
I had no idea how to plan a tour because I never did anything like this before but I did my best and realized my mistakes while they were happening and I feel much better prepared for the next time we go on tour, which we will definitely do again. It's already been decided.
I hope we were good guests.
Brooklyn: We stayed with my sister, Bridget, who showed us around Bed-Sty. We went day drinking at a place called Pearl's because I told her that I wanted to do whatever she would normally do on a day off. I had two greyhounds and got a little tipsy, wanting to rap Plastic Little songs, so Bridget made me a chicken sandwich before we headed over to Mellow Pages, which is a really cute space. Eric Nelson, our host, wore a Tupac durag, and played 'We Fly High' by Jim Jones, and then I asked him to play the remix with Juelz Santana. I was super happy to read again with Jess Dutschmann, and to meet Laura Marie Marciano. Beach Sloth phoned-in on Laura's phone a set about snowballs and the solar system. Got to meet Elizabeth Foster, Tiffany Wines, Alice Atlas, and Stephen Tully Dierks and they are all really rad. We went out after the show because we wanted to dance and Bridget took us to a noisy, crowded club where every song sounded like 2 Chainz. Elizabeth told me he wanted to come down to Philly and I told him bus tickets were cheap so he bought a cheap bus ticket.
Boston: I paid fifty dollars for a taxi cab to take me from the bus station to Jamaica Plain where the reading was. I sold a few books and the other poets were really nice and I talked to Chad Parenteau for a while about wrestling and I enjoyed that.
DC: Mark Cugini is cool. He liked my set, and that made me happy. I opened the show and did poems from I Will Always Be Your Whore and read a poem with a line about coming in my mouth and an older woman read right after me and introduced herself by saying 'and now for something entirely different' and then read a story about Donny Osmond. Maureen Thorson delivered a powerful set based on a quote by Aristotle about women looking in the mirror while menstruating. I bought her book. I talked a bit with Amber Sparks and that was fun. Alix Rax bought my book. My cousin and an old friend came to support me and after the show we went to a gay bar and then we ate as much as we could of the hugest slices of pizza I have ever seen in my life.
Philly: We got a lot of hometown love. We read at an anarchist bookstore called the Wooden Shoe and it was nice to see family and friends and people I've never met. A girl bought my book on credit. Still waiting for her to paypal me. That goddamn credit– dead it. My dad really liked Amy Saul-Zerby's set. Dianna Dragonetti was amazing as always, he usually floors me and this reading was no different. Elizabeth Foster made me tear up, because tear-salted french fries is probably the saddest food. Alexis is my best friend since college and she was our MC and gave really silly introductions about our showering habits and business cards. Lee Klein read with us the next night at Big Blue Marble in the Chestnut Hill area of the city and not too many people showed up but it was cool because it felt like a writer's salon. Klein taught a writing class I took at Temple University and it meant a lot to me that he came to read and he even bought my book. Jesse and I both want to buy his book of rejection letters. It was funny.
Baltimore: Getting to Baltimore was nuts. My parents were going to give us a ride but the clutch in my dad's car started giving out on the highway so he turned around and dropped us off at 30th street station where we caught a last-minute Megabus. The bus dropped us off at a weird mall outside of the city so we went into the mall to figure out where we were and then we caught a city bus and tried to find a place to crash for the night. Tracy Dimond came through for us and offered her floor and we were very grateful to not have to share a hostel room with six strangers in downtown Baltimore. We met a guy outside of a tobacco store near the Baltimore detention center and we asked him if there was a cool dive bar to post up in until Tracy got off work and he offered to walk us to a cool bar so we followed him and made small talk about how Baltimore is like a sister city to Philly. Then we met up with Tracy and went to the reading and Timmy Reed talked a lot about Baltimore and Carabella Sands and I lifted up our shirts.
Atlanta: I started breaking down at this point because I fucked up our plane tickets so we had an ordeal at the airport where we waited in line at special services while 20 private school children were being individually checked in and asked what color pants and shoes they were wearing and I was missing my cat and I ended up crying while reading poetry the first night but Bruce Covey was cool with it, said it added to the performance. The karaoke doctor, Michael Hessel-Mial, let us stay with him and gave us books to read and he and I both ordered the same meal at Gladys Knight's chicken and waffle place and we both got really sick. I think it was the sweet tea. Jesse was the only one who got chicken fingers. The omigod reading was really casual and really fun because we got to read with Nathan Keele Spring and Matthew Sherling, friends who used to live in the Bay who now live in the South again, and that was cool and trippy.
Nashville: Matthew Sherling drove us to the reading and when we got to the venue my parents were there wearing new cowboy boots and eating grapes. I went into the Walgreens at the old arcade a few times because it was air conditioned inside and also to buy a Snickers bar. The reading was good and my dad said the story I read, the only one without overt sexual themes which I read for both performances my parents attended, was performed better the second time around, that he liked it both times but that I had gotten stronger over the tour. I traded books with Kendra DeColo. Dave Wright was a great host and took us back to his house and we got to chill out for the rest of the tour and we really needed it. I slept a lot and would hang out with everyone in the living room and fall asleep on the floor.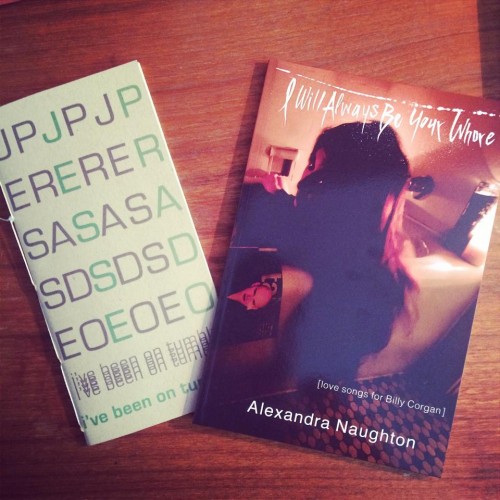 [top photo by Dave Wright, bottom photo by Amy Saul-Zerby]
Tags: mark cugini
2 Comments
July 15th, 2014 / 2:00 pm Jesse Prado's notes from the 2014 Hustle and Flow (i will always be your whore) tour | HTMLGIANT—

[…] hey Jesse, I did say seven cities, you fuckhead xoxo read my post about the tour here […]

August 30th, 2014 / 12:00 pm An artic fox interviews Andrea Coates | HTMLGIANT—

[…] I was in Nashville during my poetry tour, I was approached by an Artic Fox. Well, actually, I was approached by Josh Spilker, because the […]