Andrew Weatherhead
Mallory Whitten's God Box Available Now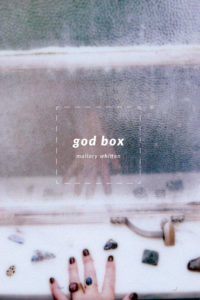 About
God Box is a sacred container replete with self & other, brimming with dazzling & touching clarity, language, emotion, confidence, & self-love. In these poems & stories—pleasantly varied in style, form, subject, & place—Mallory Whiten lucidly transmutes the complex magic, joy & trials of a healing process from trauma, from within the quotidian performance & experience of being & existing as a woman. God Box, Whitten's second book, is bright with offerings, dreams, blessings, boundaries, affirmations, prayers, synchronicities, & her signature, meticulous & necessary noticing—all of which constellate in a radiating affirmation of life that returns a self to its provenance: the holy box that holds the entire universe and—most importantly & miraculously—ourselves.
Praise
I highly enjoyed God Box—a moving, surprising, powerful, inspiring book about suffering, struggling, sexism, creativity, art, work, dreams, recovery, healing, synchronicity, friendship, and change.
-Tao Lin
Mallory Whitten exists in the delicate and precious space of writing as someone who says so much in the simplest and most up-front way possible. Her choice in and attention to recalling specific stories that happen in physical reality are always aligned with the Highest Good in the way that they lead you to remember what truly matters to you, in a way that reminds you of your own truth—no matter how different or similar it is to hers. God Box is a beautiful work of art that reflects the simultaneous incredibly light and incredible dense world back to us. Anyone will be blessed and reconnected to everything holy after reading this book.
-Erin Elizabeth Wehrenberg
God Box is an unflinching account of mental illness, but it's not one that resorts to familiar tropes of sympathy and victimization. It treats its pain as a rare gift, to be plumbed, excoriated, and conquered. "i want to be free from all the ideas other people have about me that help them feel stronger in themselves," Mal writes. There is perhaps no truer desire.
-Andrew Weatherhead
Excerpts
Driveway
(Monster House Press)
Nine Poems
(Muumuu House)
Dream
(Dark Fucking Wizard)
Service Industry
(NY Tyrant)
Hawaii Poems
(Monster House Press)
Tags: Mallory Whitten, Monster House Press