Guest Posts
Alas, David: Finding Markson's Library, by Kevin Lincoln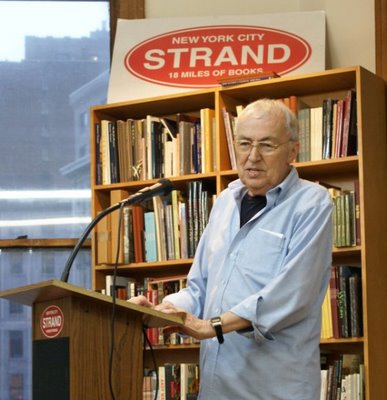 There are five books that used to belong to David Markson in my apartment right now.
There are also two books by David Markson. These have his name on the front, like you'd expect: on The Last Novel, written in thin, spare black lettering in the sky of the cover illustration, a foggy graveyard ephemeral below it; in the other—This Is Not A Novel—written in all-white lowercase below the novel's—it is a novel, despite the—title, which features the interjection of an illustrated female nude as seen from behind and waist-up, a slight crescent moon above her.  As for the five that once belonged to him, they have his name written inside the front binding, in a hand that grows less ragged, looser, more fluent as the years go by:
in The Lime Twig by John Hawkes,
Markson
NYC '65
in Carpenter's Gothic by William Gaddis
Markson
East Hampton '85
in The Counterlife by Philip Roth
Markson • NYC
'89
in A Frolic of His Own by William Gaddis
Markson
NYC • 1993
in Agapē Agape by William Gaddis
Markson
——   2002
My experience with David Markson, appropriately enough, began with and is inextricable from The Strand, the New York City used bookstore he loved during his life.
I say experience with Markson, but what I mean is experience with Markson's books; as a 20-year old guy living in New York City for the first time the summer of Markson's death, I'd never gotten the chance to meet him. (The ambiguity of that statement sounds almost appropriate, though, considering these books of his that I now own.)
I bought Reader's Block in, I think, the December of my sophomore year—so December 2008. New York Magazine had run a feature the year before in which they solicited recommendations from critics on the "Best Novels You've Never Read," you, of course, being the "you"—hopefully the critics had read what they recommended. And Markson won. "Won," I should say, because let's face it: the honor is a little ignominious, if not just bittersweet.
Granted, I know now—and I'm sure plenty of people had this exact thought when the feature ran—that such a title for Markson was unfortunately fitting. He's hardly a household name. And in the baying that follows a legend's death, the chorus of common obituaries that always seem to strike on common points, Markson's obscurity never failed to be mentioned alongside his genius and unique style.
But anyway, I had this book in Durham, North Carolina, where I go to school. And Markson died and I thought, Damn, I hadn't read it yet. But if there was any time, it was then.
In Durham for a weekend soon after Markson passed, I took the book from a box in my future apartment and started reading it that night before bed. On the flight home I got hooked, enthralled like a hypnotic by the parade of self-killed brilliants that Markson marches through the mind of his narrator, Reader, as he toys with his gestating novel.
Riding the M72 from LGA towards 125th Street, I reached into my backpack to resume reading; and, in one of the sheerest bursts of disappointment I've ever felt in my life, I realized I'd left it on the plane.  Before I got home, even though I'd slept all of eight hours between the last two nights, I hit The Strand and bought another copy of Reader's Block, along with The Last Novel for good measure. I finished both within the week.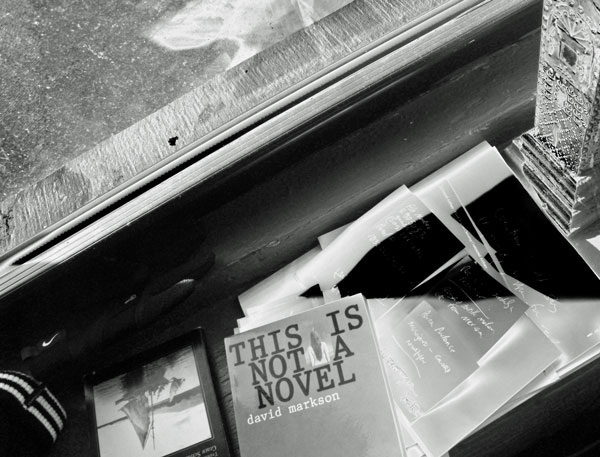 It's ironic that the first phrase I can think of to describe Markson is "a true original," considering the content of his books: largely quotes from other artists, sometimes attributed, sometimes not, or a brief sentence about the way they died, or some fascinating bit about the relationship between two writers—drawn from real life, but painstakingly constructed. Not all of his works are like this, and not all of his works that are like this are like this; if you're curious for more details, read any of the obits from June, or the many eulogies by plenty of better writers than me. Or, better yet, just read the books.
Where this story gets remarkable, where the Markson/Strand connection stops being of mere biographical interest and starts becoming something else, happened about a week ago. Pretty much every time I'm around Union Square this summer I hit The Strand, and I was browsing on a Saturday before heading to a music festival in Coney Island—you know, for reading material. It's a long subway ride. Also, I 'm weak.
Regardless, I'm browsing the stacks, hitting the swath of postmodernists that've come to dominate my reading: Gass, Pynchon, Gaddis. Gaddis: there were three more Gaddis books than the last time I'd been, and I opened one, and there was that inscription, first thing I saw: Markson, East Hampton '85. I made the connection, hoped I was right, bought two of the three, and went to meet my girlfriend, giddy over my purchase. The music was good, too.
A few days later, after I got paid, I went back and bought the other. And then earlier this week, I headed over from work, having seen Alex Abramovich's post on the London Review of Books blog earlier that day about Markson's library spread out among the stacks, how Abramovich and his friends had snapped up a bunch, how somebody'd found a copy of White Noise that Markson had just savaged. (The criticism didn't surprise me, considering the postscript he'd written in Agapē Agape, Gaddis' posthumous, final work: "Monotonous. Tedious. Repetitious. One note, all the way through. Theme inordinately stale + old hat. Alas, Willie." Such brutal, perfect criticism.) My suspicions basically confirmed, I bought The Counterlife, doubly exciting due to the Philip Roth worship of which I've been guilty since high school, and The Lime Twig by Hawkes, which I'd been hunting for months and got FOR A DOLLAR in the racks outside—I didn't even realize it was Markson's until after I'd paid, stoked enough that I'd found it at all.
So now I have these five books, which seem to me like they belong in a museum, or somewhere they can be properly venerated. Instead, I'll treasure them in private, warmed by the thought of Markson reading them before me, hoping that his talent, his craft was some sort of contagion, that maybe he smeared it on the books either purposefully or by accident, maybe he realized that after he died the books would be sold and bought again by someone who couldn't believe his good luck, getting not only a book that he'd wanted anyway, that he would've paid for all the same, but one that had history scrawled inside it with a year and a location.
After all, Markson knew that every writer's a reader, and that most writers are readers first—see Reader's Block. And, considering his approach to the work of his heroes, I imagine that he'd be happy to see his works in the hands of an aspiring writer, open to the idea that maybe one day he'd become a part of an art that built on the art he'd made from the stuff of what he'd read.
You know, something nonlinear. Discontinuous. Collage-like. An assemblage.
— Kevin Lincoln is a student at Duke University and interns at A Public Space. Follow him on Twitter (http://twitter.com/KTLincoln). He currently lives in New York City, though he has to leave in August. But let's face it, he'll probably come back. He can be reached at kevin.t.lincoln [at] gmail [dot] com
Tags: Agape Agape, david markson, reader's block, The Strand
26 Comments