Justin Taylor
Ariana Reines Week, Part 4: The Little Black Book of Griselidis Real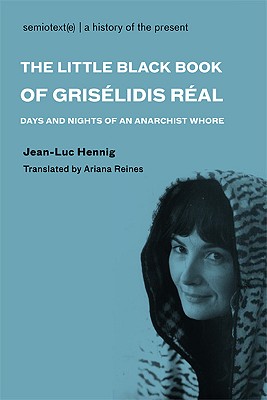 We began Ariana Reines week with AR's original translation of Baudelaire's My Heart Laid Bare, published through her own press, Mal-o-Mar Editions. Now, after two days cavorting with Dan Hoy and Jon Leon, whose split book (The Hot Tub / Glory Hole) is also new from MoM, we return to Reines-as-translator, and consider a new book from Semiotext(e), The Little Black Book of Griselidis Real: Days and Nights of an Anarchist Whore. Here (from the site) is the briefest of introductions to Real:
Hailed as a virtuoso writer and a "revolutionary whore," Grisélidis Réal (1929–2005) chanced into prostitution at thirty-one after an upper-class upbringing in Switzerland. Serving clients from all walks of life, Réal applied the anarcho-Marxist dictum "from each according to his abilities, to each according to his needs" to her profession, charging sliding-scale fees determined by her client's incomes and complexity of their sexual tastes. Réal went on to become a militant champion of sexual freedom and prostitutes' rights. She has described prostitution as "an art, and a humanist science," noting that "the only authentic prostitution is that mastered by great technical artists … who practice this form of native craft with intelligence, respect, imagination, heart…"
The main action of the Semiotext(e) volume is a series of lengthy interviews between Real and Jean-Luc Hennig (a professor at the University of Cairo) but the final section, a hearty selection of entries from the titular Little Black Book are not to be missed. They are the concise, practical, hilarious, and delightfully NSFW. Click through to read some of my favorites.
2 ANDRÉ intellectual revolutionary, charming and intelligent, middle-aged, assfuck with tact and moderation, suck—fuck tenderly 100F. (Can give less when he's broke)—Particularly congenial man.
2 ANTOINElooks like an industrial peasant kind of down at heel, timid, sensitive—a bit bereft of hair—retired admiral jacket— extremely voluble prostate with arterial throbbing—assfuck with nuances while flattering the interior, while mouthing and cajoling the balls—at the end press and assfuck rhythmically while deep-throating—ejaculation in mouth 80 F.
6 CLAUDENice fat man, very tender, met near home on a rainy evening on way back from eating at L'Aiglon (The Eaglet)— French origin—suck, fuck 100 F. (Leant him Pourriture de psychiatrieand La Redresse.)
EDOUARD-LA-DOUCEUR, formerly butcher of Villette—Suck, fuck (if he hasn't drunk too much) finger in ass, masturbates 100 F.
EMILEvery nice, suck, fuck 80 F (his wife doesn't know how to kiss).
1 EUGÈNE(Zurich) suck, fuck, 80 F (looks like The Suicide).
EDDIE ash blond, tall kind of captain look, looks like Eddie Constantine—deep throat with the proper nuances 100 F.
2 EUGÈNE(Yverdon) short, fat, glasses—very nice, bon vivant, from 100 to 200 F—likes to drink a glass of red anby a big plastic electric cock (that he gave me).
3 JEAN-PIERRE little cop-type shit, pathetic cock, endless cuddling if you let him do it, but ejaculates fast, only gives 50 F. (!) (a disgrace!)
1 LOUIS greying hair, a bit bald, nice, likes to suffer a little, fairly virgin ass, comes in mouth 80 F. Sent by Chantal.
2 LOUIS short, never gets undressed (suspenders) suck, fuck—(old, nice but pretty taxing).
6 MARCEL fat boy with a mustache butcher boy type—nice, do not pull back the foreskin, caress the lower abdomen, and the upper thighs while sucking delicately—fuck Daddy-Mommy style 80 F
PIERROT tall, slightly redheaded, blue eyes—suck, fuck—refers to my breasts as "roberts," from 100 to 150 F.
2nd RAYMOND light Swiss-German accent—likes to be beaten, tied up, tortured, jacks off—suck, nipples 100 F.
2 ROLAND very simple, rustic quick work (suck if possible to the end without seeming to go too fast) 60 F. ?
8 ROGER (sent by Odette) Lebanese not very tall, mustache and glasses, beautiful deep voice rolls r's, suck, assfuck artistically, prostate very lively and sociable, treat with moderation otherwise it goes too quickly 100 F (lower to 80).
5 ROLAND artist, publicist, charming, sentimental, chestnut hair  (light eyes) suck, fuck 100 F.
STAN fat hairy braggart—traveled to Egypt (poultry merchant) suck, fuck 80 F.
Tags: Ariana Reines, Griselidis Real, Jean-Luc Hennig, Semiotext(e)
5 Comments