Matthew Simmons
Donald Duck, who wore no pants.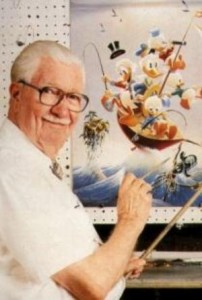 My favorite chapter from the otherwise pretty fun, but ultimately forgettable book The Science of Superheroes is this one where the author reminds readers that the man who wrote the Donald Duck comic book from 1942 – 1966 (Carl Barks) tried hard to always get the science right. Starts on page 161 of the preview on Google Books:
In the words of Carl Sagan: The future depends on the wise use of science and technology…how can we elect scientifically literate officials if we don't know anything about it?
3 Comments
July 17th, 2009 / 8:31 pm Bradley Sands—

I read an interesting article recently about how somebody had trouble getting a patent on a method to raise a ship because it was described in a Donald Duck comic.

July 17th, 2009 / 4:31 pm Bradley Sands—

I read an interesting article recently about how somebody had trouble getting a patent on a method to raise a ship because it was described in a Donald Duck comic.

July 17th, 2009 / 4:55 pm pr—