Matthew Simmons
Gagaku Meat and Influence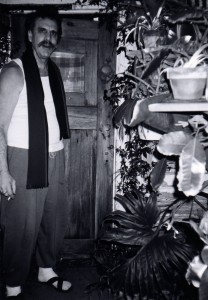 (Photo of Steve Richmond by Mike Daily, 1993)
A couple of weeks ago, Portland writer Mike Daily sent me a copy of a bound essay entitled Gagaku Meat: The Steve Richmond Story. It's a hell of a thing, actually.
Daily discovered Richmond through the work of Charles Bukowski. They were (Richmond and Bukowski) on-again, off-again friends and fellow practioners of what some call the Meat School of poetry—masculine, direct, sometimes down on its luck. And where Richmond seems to have been influenced by Bukowski, Daily seems influenced by Richmond. Legacy.
Daily has contacted friends and publishers of Richmond's work and interviewed them to cobble together the life of Richmond's work—though biography of the man is a part of the essay, the biography of his development as a poet, the timeline of his struggles to publish, a cataloging of his prolificacy make up the structure of the essay.
And then, somewhere in the center, Daily's life and Richmond's life intersect. Daily discovers his work by chance.
Daily's father is a collector of the ephemera of magic—posters and books—and having a meal with his father at a convention, Daily is introduced to Sun Dog Press's Al Berlinski. This leads to his introduction to the Bukowski-approved Richmond.
Berlinski gave me a copy (one of 153 signed and numbered by Richmond) [of Richmond's 5.0 L Poems] that night in the hotel bar in '91. My Steve Richmond Mania had officially commenced.
After that, Daily collected his work, contacted him, was even inspired to try to publish both Richmond and Bukowski (successfully in 1994′ STOVEPiPER, Book One, and unsuccessfully with a Richmond memoir of his relationship with Jim Morrison—Richmond had owned a bookstore frequented by Morrison in the 60s).
The two were in seemingly close contact from 1991 – 1995—though Richmond admitted to Daily that his interest in their relationship was more "selfy" than Daily might suspect—but the breaking of the Morrison book's contract put them out of touch. Years later, Daily found a copy of Ben Pleasant's Visceral Bukowski and decided to look into Richmond's progress. This article is what he found.
To read more, you can order Gagaku Meat here. (Gagaku, by the way, is the music of the Japanese Imperial Court. It's spare, odd, and really quite beautiful.)
Portland HTML Giant readers interested should head out to The Tonic Lounge on Thursday, July 9, at 9pm. Daily has a musical project called Mr. Viced Honest (an anagram of Steve Richmond) that combines live music with spoken word pieces inspired by or based on Richmond's work.
A recent Mr. Viced Honest video:
httpv://www.youtube.com/watch?v=VAu-4d6USN0
A nice interview with Richmond appeared on 3AM.
Tags: influences, Mike Daily, Steve Richmond
16 Comments