Blake Butler
I Knew That There Was Nothing Beyond It: An Interview with Ben Spivey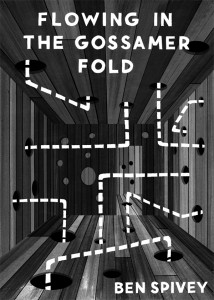 Earlier this summer, Blue Square Press released their first title, Ben Spivey's Flowing in the Gossamer Fold. Told in a series of mostly short, alternatingly Lutz-real and dreamlike passages, the book contains an interior logic and realm of imagery somewhere on the cusp of no realm, fresh and familiar at the same time. Over the past week or so, I asked Ben about the book's creation, his influence, and more about the future of this new press over email.
Let's start at the beginning: How did Gossamer begin in you as an idea?
It began as a drowning feeling. When I was first thinking about Gossamer I knew I wanted to tell a story about a man losing everything he was comfortable with. I knew how I wanted it to end, in fact I had the last sentence written in the first draft, the line was never changed.
So your writing the novel was all movement toward that last sentence? How did the moves reveal themselves? Over what time?
I started writing the novel in February of 2009 and I finished it sometime around March of this year. The moves revealed themselves as pieces to a puzzle. I kept a Moleskine journal with me at all times, jotting down ideas. For that year I never stopped thinking about Malcolm. A lot of the time I put into the novel was spent arranging the scenes and the moments, moving and cutting chapters, paragraphs, sentences. The beginning was originally the middle. I was working toward that last sentence; I knew that there was nothing beyond it.
How did you get to the mind from which you started the book? What made you start writing?
I think a lot of that mindset was produced from what I had experienced in my life until that point. Sometimes what I was writing felt biographical. I had recently finished both The Fall and The Stranger by Camus and was moved greatly by those books, they made me reconsider what I wanted to do with words. I started writing at a young age. As a boy I was attracted to world builders, fantasy novels and science fiction. I also read a lot of comic books. I wanted to make worlds. It was an escape.
Your prose often feels very dreamlike, does sleep or sleeplessness or dreams or dreaming affect your sentences?
I think so. Sleep and lack of sleep were a very important part of writing Gossamer. I sleep light. I slept lighter then. I would wake early after late nights so I could work on the novel. I have fond memories of making a pot of coffee for the morning work. It was a routine but it felt like a ritual. I would wake up and jot notes or words. Working in the morning, before I had any responsibilities, allowed me to get in a couple of uninterrupted hours of focused productivity. A lot of the notes that I'd make at the cusp of sleep were interesting to work with that next morning. I feel like a lot of the novel was written in notes, and segments. I rode the train to school and I'd fall asleep listening to David Byrne. I'd wake and write notes. Malcolm takes naps. Malcolm sleeps. And I was tired a lot of the time. I learned to drink coffee black.
Did this affect as well the structure of the book? The alternating sections reminded me a lot of fits of waking and sleeping, with the weird logics that come out of the latter mixed with more direct reality of the former. How did the book's form change or reveal itself differently or by turns over time?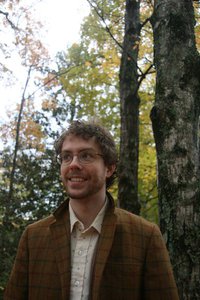 It did. Malcolm goes through a lot of cycles. I was going through cycles too. In the morning I would generally type longer pieces, and at night and throughout the day I would usually only produce short sections or thoughts or lines that I'd find a place for later. A lot of the novel was written while I was tired. I think that finding the time to write is something that shaped the narrative structure. Finding time in general, watching time. I thought about the past, how different it is now in such a short amount of time. How people come and go. There are circles and continual things that shift and shape and change but not really change, small and large throughout. It was a dusk to dawn sort of thing; I think that was literal as much as it is fictional. The form changed several times over the months. For a long time there were no chapters, only the space breaks. It was a long stream of consciousness at first. When I decided to add chapters they came naturally as if the sections had already been determined by the different cycles.
What else, outside the cycles, affected your writing during this period? Do you find yourself influenced by what you read immediately, as you are reading it? What about film?
I was at a point of transition in my life. I was moving into a new home. I was missing a lot of my things because I was gone a lot, sleeping somewhere new. The new sounds of where I was sleeping. I moved into an apartment complex in the city. I wasn't used to the thin walls and the muffled voices of strangers. Becoming influenced by what I'm reading depends how I'm reading it. If I'm reading it and looking for the author's craft and looking too learn from that, then yes, I could be influenced immediately. For example, the tone of Kafka on the Shore influenced me, but it is also a book that's nothing like the story I was writing at the time, so I was able to escape into it as well. The Holy Mountain by Alejandro Jodorowsky had an affect on my use of religious imagery, the religious imagery was already there, but The Holy Mountain affected some of the visuals. The duality and sexuality of David Lynch's Lost Highway affected me; the terror and the darkness of the first 45 minutes and the hallway with no boundaries. I identified with the symbolism of those movies. They swirled in my head for a long time.
Tell me about Blue Square Press? How did that get started and what are future plans?
A few year ago David Peak and I were published in a genre anthology. He sent me an e-mail saying that he liked my cyber-punk, corporations rule the world, you're a slave as a consumer story that was in it. We stayed in touch after that. Sending each other stories back and forth. We chatted about publications, journals, books, frustrations and successes. When I began work on Gossamer I would send him pieces as they came and he'd send notes back. When I sent him the final draft of the book he e-mailed me and said that he wanted to start a small press with me and thought that my book should be the first one we published. David was the ideal person to edit my book. As a writer he probably knows me better than anyone. We then needed an artist. David had worked with Chi Birmingham on some other collaborative projects and he agreed to be Blue Square's cover artist. While working on my book the three of us were able to comfortably learn how the other works. We have two forthcoming books, Theater-State by Jack Boettcher and fuckscapes by Sean Kilpatrick. I can't tell you enough how excited I am about both of these books. They are truly unique and exciting. Beyond that, and beyond more books, we'd like to eventually publish independent video games with some sort of literary quality, or a book written entirely in computer code.
What is next for you? What are you working on?
Over the year I've become a lot less concerned with publication and a lot more concerned with writing and revision. That being said I'm working on a couple of different things, including a new manuscript. The working title is God oh God the Depth of the Ocean and a small piece of that is a chapbook forthcoming from Mud Luscious next year.
* * *
Flowing in the Gossamer Fold is available now from Blue Square Press.
Tags: ben spivey, blue square press, flowing in the gossamer fold