Jimmy Chen
It's the end of the world as we know it, and I used to feel fine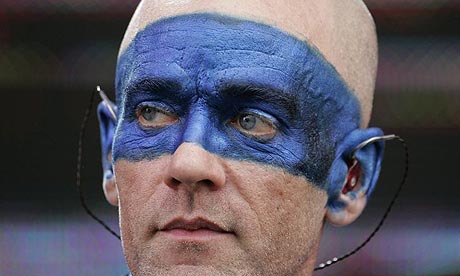 R.E.M frontman Michael Stipe seems keen on auditioning as the fourth member of the Blue Man Group. Tibet is nice and all, but Michael, you're making people suffer here. Why is it that artists so 'mature' in their youth can be so 'immature' in their elder years? I use quotes around those words because I don't fully subscribe to such simple dichotomies, though I do often wonder — what the fuck happens? Is fame that bad?
Take for example some lines from "West of the Fields," off R.E.M's debut album Murmur:
Long gone, intuition to assume are gone when we try.
Dream of a living jungle in my way back home when we die.

West of the fields. West of the fields. West of the fields. West of the fields.
Long gone. Long gone. Long gone. Long gone. West of the fields.

Dreams of Elysian, to assume are gone when we try
Tell now what is dreaming
When we try to listen with your eyes oversimplify
Now that's just beautiful — the 'ong' alliteration, the zen-type absence and abnegation, the pastoral allusion brought by a vague vector, the intuitive resistance to grammar, etc. Now here's an excerpt from "Leaving New York" from a recent album Around the Sun.
you might have laughed if I told you
you might have hidden a frown.
you might have succeeded in changing me
I might have been turned around.

it's easier to leave
than to be left behind
leaving was never my proud.
leaving new york, never easy.
I saw the light fading out
"Succeeded in changing me," and "it's easier to leave / than to be left behind" sound like something from a 17 yr old girl's diary. The cliche "hidden a frown" works predictably with "turned around." Maybe he's trying to evoke Lou Reed's stoic irony of New York, key word being 'trying.' I don't want to be a dick, but I just loved Michael Stipe so much when I was younger. For every lady with a bag o' botox, there's a rock star who thinks 20 years never happened. The problem with rock n' roll is that it glorifies youth. Literature fairs better in this regard; it starts off grumpy and tries to end that way.
A friend who visited the band's hometown Athens Georgia told me that he saw Stipe was here written on the bathroom wall in some bar or something, this being a rhetorically abridged version of Stipe was here, penned by the eponymous man himself. 
I used to feel like that kid in the abandoned house in that video. (If you don't know what I'm talking about, fuck I am old.) I guess youth's fate is written in old stars — the poetry ends when the pain does. I know that's cliche, thank you for your attention. I used to save up my monthly $10 allowance to buy cassette tapes of a long awaited album. I'd ride my bike for 20 miles to Tower Records because my mom wouldn't take me. That was punk, people. Now I'm in my boxers with a watermelon on the kitchen counter waiting to be violated. Work is tomorrow, ad infin. 
It's time I had some time alone.
Tags: michael stipe, REM
40 Comments