Justin Taylor
Let's Get to Know Darcie Dennigan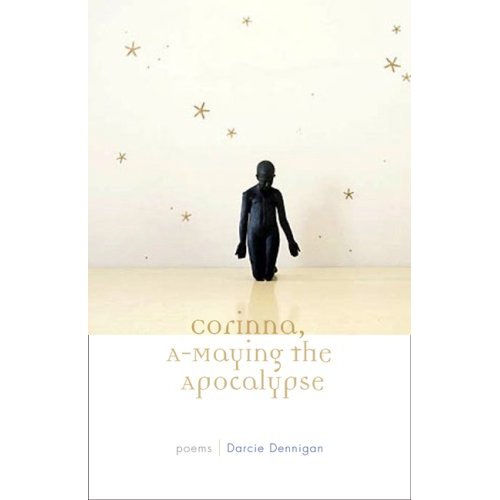 I was reading Alexis Orgera's blog last night, and she had posted something about something Tony Hoagland wrote about "the cult of Dean Young" in American Poetry Review, and some subsequent vituperative blogging induced thereby. But what caught my attention was something Alexis mentioned in passing, while talking about something John Gallaher said about Hoagland's piece. "I do like that Gallaher calls Hoagland out for defining the new American poetry by young, white men. I think two of the most interesting and fearless young poets right now are women: Darcie Dennigan and Dorothea Lasky." This, to me, is infinitely more interesting than whether Tony Hoagland thinks Dean Young is being trampled to death by geese or not. What's especially infinitely interesting is the fact that I've never even heard of Darcie Dennigan. (Pretty sure I'm on-record as a fan of Dottie L's, but if not, let this be that record.) Or I thought I'd never heard of her. It actually turns out that DD is the author of Corinna A-Maying the Apocalypse, a book I most definitely remember hearing about. It came out from Fordham University Press last year, after winning their Poets Out Loud prize. So let's all get to know Darcie Dennigan.
– Matt Hart reviews Corinna at Coldfront
– "Orienteering in the Land of New Pirates" is a poem by DD in H_NGM_N #6.
– "The Canon Come Again: Same Themes, Different Centuries" is an essay by DD at the Poetry Foundation.
– Raymond McDaniel at Boston Review also digs Corinna.
– Paul Vermeersch had the same idea as I did about DD, and already did more legwork than I'm going to. So for more, go over to his blog and see what he's rounded up.
Tags: Alexis Orgera, Corrina A-Maying the Apocalypse, Darcie Dennigan
2 Comments
August 13th, 2009 / 2:56 am Elisa—

She's also got a great poem forthcoming in the next Absent. :)

August 12th, 2009 / 10:56 pm Elisa—

She's also got a great poem forthcoming in the next Absent. :)