Matthew Simmons
October Hobart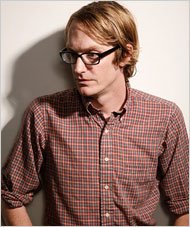 The new Hobart is up today, and it includes some fantastic pieces of fiction. But, as my gig over there is as interviews editor, I thought I might point to the two fine interviews available.
Amy Minton—one of my go-to interviewers—talks to Molly Gaudry about her novella We Take Me Apart.
But my ultimate white whale is Salman Rushdie's Midnight's Children — not because I can't get through it, but because it's so incredible (I had to read it for a postmodernism course, a course on diasporic traditions, a contemporary fiction course, the list goes on). That book, I feel, is so important, necessary. I want to do that, but in a different way.
Also, I had a short conversation with Patrick DeWitt about his amazing, amazing novel Ablutions. If you haven't read Ablutions, do so very soon.
16 Comments