Adam Robinson
The Best of (What's Left of) Heaven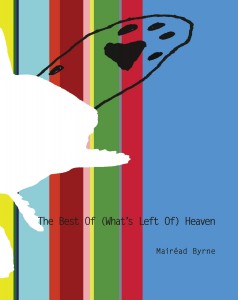 Mairéad Byrne made a survey. I took it. Is it scientific research? Is it a poem? Is it a joke? Is it about couches? Or comfort or people? She wrote a poem in 2006 called "The Good News" that says, like, "The cross between a poem & a carrot is a poem./The cross between a poem & a forklift truck is a poem" — so I guess the survey is a poem. I like to think of it that way as much as I like to think of it as research or a joke.
Mairéad Byrne was the first poet who really blew me away. Her blog, Heaven, remains one of the most fetching and questionable poetry documents I'm familiar with. She's been putting provocative, ephemeral, animate poems there since 2003. Now Publishing Genius is releasing her book, The Best of (What's Left of) Heaven, which collects many of them into 224 pages. It's available now for $10, but won't ship for 2-3 weeks. But in three weeks it will cost $14.95 through your local bookseller.
Here are a couple other interesting things. I mean, really:
SOS Poetry at ubu/web — a free eBook
"Some Differences Between Poetry and Stand Up"
Review of Talk Poetry at ReadWritePoem
And for our Portuguese readers, a review in Portuguese
Here's a poem:
AMERICA

America is just the greatest man. We got all this space & democracy & everything & just the greatest music. Like Chuck Berry & Buddy Holly & Elvis & Bob Dylan & Bob Marley & Van Morrison & The Beatles & Vivaldi & everything. I mean how cool is that. And poets — look at what's her face Anne Bradstreet & Emily Dickins & Charles Dickinson & Walt Whitman — WE LOVE YOU WALTER — & Yeats & Keats A all those dudes & Langston Hughes and RUMI! This is the GREATEST country! I LOVE IT! DON'T YOU JUST LOVE IT? YOU GOTTA LOVE IT! We got ICE-SKATERS! We bust the ATOM! We got CONIFERS! We were FIRST in space! We got the GOBI DESERT! We got MONGOLIA! And NIAGARA! And the GRAND CANYON! And THE PYRAMIDS! You're not going to catch me saying civilization with the Mayflower! None of that shit — I mean how did those guys BUILD those things. THE PYRAMIDS. I mean people still don't understand the physics of it. They had to had rollers or something. No, King Tut is as American as anyone in my book. As American as Abe Lincoln. Did you know they had SLAVES back then: Isn't that the weirdest?? Hey pass me that snow globe will you. YEAH!
I guess in relation to that poem (which was published in her 2007 book, Talk Poetry, from Miami University Press), it's interesting to consider that Mairéad is Irish and moved here as an adult in 1994. So is she dissing us? Is she dissing dumb Americans? The snow globe line reminds me of stoners. Is she dissing stoners? I don't think so, but you can. I've read that poem a million times and each time I get hung up on the startling clarity of her expression.
Here's a poem from The Best of (What's Left of) Heaven:
DONALD HALL WOULD HATE ME

if he knew me
I don't want to be great
it takes me 10 minutes
to write a poem
sometimes
& then
I want to whisper or
shout it about
town
My poems are usually brief
they resemble each other
they are anecdotal
they do not extend themselves
they make no great claims
they connect small things to other small things
I LIKE SHORT!
I just want to kick the leaves
& have done
She is my favorite. Take the survey. That is all.
Tags: mairead byrne, Publishing Genius
14 Comments