pr
Tony O'Neill is a Writer I'd Like to Fuck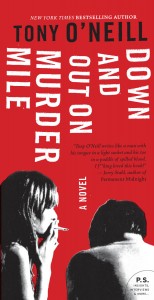 Sometimes, when I read a man's book, it makes me have sexual fantasies about him. Now, Bukowski had full-on groupies, as  did Mailer and -well, countless others — so I know I am not alone with these feelings. The most recent man who inspired "I want to fuck you" in me, was Tony O'Neill. Tony O'Neill has written two novels, Digging The Vein, which I mentioned in my Contemporary Press post, and the recently released, Down And Out On Murder Mile. Digging the Vein is about being a junkie in Los Angeles and Down and Out On Murder Mile is about being a junkie in London. Both books are extremely unsentimental accounts of Tony's love affair with smack and love moments with cocaine. They are terrific reads. He also has poetry scattered throughout the internet that I like and has published a book of them with Social Disease Books. He just has this wonderful no bullshit quality to his writing that makes me think I'd like to get drunk with him and then fuck.
Also, I think he's really cute, with those big brown puppy dog eyes and pale skin and uncircumcised penis. Now, I haven't seen his penis- yet! –but he's English and those dudes are usually intact. He also co-wrote this amazing book called Hero of the Underground with Jason Peter, about Peter's life as a football player and drug addict. I fell really hard for Jason Peter, which temporarily derailed my love for Tony. Getting banged by some huge super muscled, hard partying linebacker for the NFL? I spent many a night imagining that I was one of his coked out hookers and I even briefly stalked him on the web. (At least I didn't go to Nebraska, where Peter lives! Phew!)
But back to Tony. Now, Tony doesn't live in Nebraska, he lives in Brooklyn, like me. Tony is married to a very lovely woman-I've seen photos-and he is very in love with her and writes about her in Down and Out On Murder Mile. Here is a great section discussing his love for her:
"Vanessa's breath is sharp, cutting through the still of the bedroom like glass as we have sex again. And again. And again. Her nipples are hard and I am biting at them, and I slide my cock in and out of her. Her pupils contract, locked on mine; in a flash of electric skin I reach down, rest my hands on her ass cheeks, pulling them apart, and they are slick with cum. We have been dropping pills and having sex constantly for which seems like glorious eternity. With my forefinger, I rub the wetness into her asshole and withdraw my prick, repositioning,  and gently ease myself into her ass instead. Her breathe quickens, sharpens, then settles back into its rythmn as she reaches to her side and retrieves the vibrator, sliding it into her pussy. As I find myself all of the way in, I can feel–through my own prick–the vibrating rubber cock inside of her, parallel to my own, as we fuck ourselves into ritualized oblivion."
That's hot, right? Dude puts it in the back door (there's also nice pussy eating references..yeah)! My kind of guy. And has an English accent? And writes poetry and has a real book deal? Anyway, Tony, if you are out there, do you know the saying, "show me a beautiful woman and I'll show you a man sick of fucking her"? If you are sufffering from this common phenomen, come on over and get yourself some strange!
Tags: down and out on murder mile, hero of the underground, tony o'neill
52 Comments